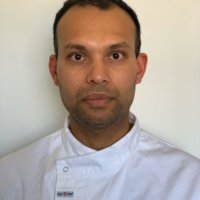 Andrew Bambaravanage
2 reviews
5.0
To become a chef and travel the world was Andrew's dream. A desire to learn about Mediterranean cuisine drove him to not just move to different countries but also to experience many different kitchens.
Melbourne is his home now and the appreciation of the best products in its rich multitude and outstanding quality is what made him settle in Australia over a decade ago. He has been the sous chef in some of Melbourne's well known restaurants such as Platform 28 Hotel and Moonee Valley Racing Club.
With his 18 years of experience he understands that the food is the focus point at any dinner party. Andrew has a great passion to satisfy clients with his culinary talents. His secret is simply love your job, love the food and it will repay you many times over.
Andrew Bambaravanage
Andrew is a great chef, the food tasted amazing. Will definitely re book for another function!
Michelle Apostolovski (VIC)
Andrew Bambaravanage
Andrew created a memorable experience for our guests with delicious food and a friendly manner.
Mark Needham (VIC)