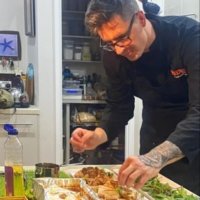 Humble beginnings working in a small family run Italian restaurant on the Gold Coast, rolling fresh pasta, pizza and bread making gave Ben a passion for cooking and it wasn't long before he was running the Pasta Kitchen. He then moved to Perth working in bigger establishments like the Breakwater seeing how to cater for weddings and larger groups. From here he moved on to be a part of the opening team for the Shadow Wine Bar in the Alex Hotel. Wanting to learn how to refine his skills he worked in fine dining restaurants around Perth, No 4 Blake Street and Clarkes of North Beach. This is where Ben began to flourish and became 2017 Electrolux Young Chef of the Year, Gault Milat Young Talent and Runner up in the Le Chains Young Chefs. They also went on to win a Gold Plate at the AHA awards, and received a 17.5 from Broadsheet.
Ben was then offered to go work in Mornington, Victoria and be a part of the opening team Pt Leo Estate and Restaurant Laura which received 2 Hats. Wanting to learn more Ben then was offered to move to Japan to be a part of the opening team at restaurant Kumo. Learning all about the Japanese cuisine and culture, which he has now brought back here to Perth.
Spending the Last year working in Mary Street Bakery and Ficus restaurant has allowed Ben to pursue his dream and create his own style of food and serve it the way he thinks it should be done, one on one and directly with the chef.
A Story on a plate, every dish, every ingredient has a story and reason to be there. You will get to be taken on a journey of Chef Ben's 15 years of experience in the kitchen.
'Like when you learn the meaning behind a great song or poem it changes the way you look at it, that's what I'm doing, giving you the whole story of the dish'.