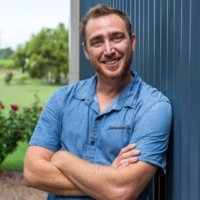 Bryce Reynolds
1 reviews
5.0
With 10 years under his apron, Chef Bryce owes much of his culinary awareness to the ocean and mountains that surrounded him as a native of NSW coast.
Bryce got his first taste of the culinary life at a 2 Hatted Restaurant in the Hunter Valley. That adventure turned into a career of working his way through every position in the kitchen, leading to founding his own successful Restaurant and Cafe.
Now with private catering , he provides his own series of fine dining at homes across Newcastle and Central Coast featuring Modern Australian menus from the local foraged ingredients

Bryce Reynolds
the food was innovative and tasty and served with flair by Bryce. We have 2 suggestions. The main course (duck)could have been a little hotter and we would have liked more jus. The dessert (cheesecake) was delicious and would have liked a little crunch with it. We would recommend this experience to others and tell them to use Bryce, he is tops.
trish kelly (NSW)