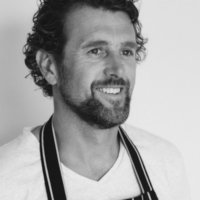 After 20 years of travelling and working in some of the world's best restaurants, Personal Chef Christian Hartley has now settled in Sydney.
After training in Auckland, Christian spent his early career working under Rob Castellani at Donovan's (2 Hats) in Melbourne. Christian spent 6 years in Melbourne honing his skills, working at The Stokehouse (2 Hats) and then under Teague Ezard at Ezards (3 Hats).
In 2004 Christian and his wife moved to London, where Christian reconnected with his New Zealand roots working at The Sugar Club. With a strong foundation in Italian methods from Donovan's and The Stokehouse and modern fusion style from The Sugar Club, Christian wanted to broaden his repertoire to include Japanese fusion. This led him to the globally acclaimed Nobu in London's Mayfair.
From Nobu Christian moved on to lead the kitchen at Mews of Mayfair, establishing a highly successful dining establishment in the heart of London's Mayfair.
Returning to Australia to raise his young family Christian has found a renewed passion for using fresh, quality Australian produce, to create clean global flavours. We are pleased to have him as a Personal Chef in Sydney.
Christian Hartley
Chef Chrisitan was very professional yet very warm and friendly to all my guests. He efficiently served 36 people from our small kitchen in an open plan environment. The level of detail on the presentation was beautiful and the food was cooked perfectly. Timing was spot on and everything was delivered hot and spaced correctly. Our kitchen was left spotlessly clean but I did not even hear them do it. In an open environment I worried about the noise but we didn't even know they were there. Loved the night and as it was my birthday will always remember it fondly. Thank you Christian and the team for a wonderful night.
Marilyn Benson (NSW)
Christian Hartley
Christian was amazing. The food tasted incredible, he was even able to provide a second choice for entrees, to cater for those who didn't eat fish. The whole night ran smoothly. Christian's food preparation and supply of ingredients meant that everything was ready on time and the plating and taste was better than restaurant quality. Christian explained each dish as they were served by Yalda, our fantastic wait staff for the night. The kitchen was left spotless. All that was was left for us to do was to continue to enjoy the night after they left. My Dad Was overwhelmed by such a lovely surprise for his 80th birthday. A great time had by all. Thank you!
Vicki Bradley (NSW)
Christian Hartley
All our guests have raved about the high quality food and the excellent way it was presented. Chef Christian did a wonderful job. He arrives with the food already prepared and then finishes off the cooking and presents it all in our own kitchen. This is an outstanding service that is simple to organise. We simply worked with Ellie from At Your Table to establish the style of our function, how many people and how much food would be required. Then we select from Chef Christian's menu and everything is done behind the scenes. Low fuss extraordinarily high quality. Thank you
Peter (NSW)
Christian Hartley
Very friendly, great food overall made for a fantastic night, highly recommend
Rachel Harkin (NSW)
Christian Hartley
all our guests had a great night.
Melinda (NSW)