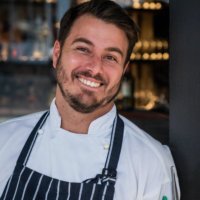 Dylan Cashman
1 reviews
5.0
Chef Dylan, who's early experience took him on a culinary learning spree in the reputable kitchens of Sean's Panorama, Cottage Point Inn & Paper Daisy before becoming Head Chef of Fin's Seafood Restaurant where he won his first chefs hat, believes food should be respected for its provenance just as wine is.
Even though he has worked in Europe's finest restaurants from 3-Michelin Star restaurant Vendome in Germany to opening the Brixton Laundry in London, Dylan still believes his biggest achievement was opening his own restaurant, The Blue Door on 5th in Palm Beach, which launched to great acclaim. It was named Best New Restaurant for Queensland & was listed in the Good Food Guide with one hat. Now, he is determined to bring the Blue Door Experience he created on the Gold Coast, to Sydney.

Dylan Cashman
Dylan and Ange came to cater for 11 people for my 40th birthday. We had Vegans, Pescatarian, Coeliac and other fussy eaters who they catered to expertly. They were both so lovely, we were instantly comfortable having them there. Ange knew the wines we had brought with us and paired them to the food. Each course was both beautiful to look at and eat. The experience overall could not have been better, i would highly recommend.
Leah Hopkins (NSW)