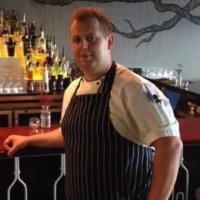 Geoff Hart
5 reviews
5.0
His love of food and cookery became evident at an early age and was greatly encouraged by his Italian Grandmother. Geoff's Nonna would mentor him in her kitchen
Aged 16, Geoff embarked on his chef apprenticeship at the prestigious Royal Melbourne Golf Club under the expert hands of  Executive Chef Mark Weatherly who himself was trained at London's bastion of classical French haute cuisine Le Gavroche, the first UK restaurant to be awarded three Michelin Stars.
In his career he proved himself in Melbourne's household names like Donavans and Pantry Restaurant. As well as in Queensland running Bistro 3 and being the chef on fishing yachts creating daily amazing fresh seafood dishes.
Geoff goes by, "Food shouldn't be confusing. The freshest ingredients are always the best."

Geoff Hart
Beautiful food, lovely people - all round great experience!
Steph Formosa (VIC)

Geoff Hart
I'd like to say a huge thank you to Geoff and the wait team Sami and Hilary who worked tirelessly on Saturday to make my birthday party a huge success. Geoff was delightful, professional, very skilled and his food was incredible. Our guests had nothing but praise for the amazing quality and wonderful flavour of the canapes. The team arrived in a whirl of chaos as it had been raining until an hour before the party start and we were unable to set up properly outside. Geoff set up in the kitchen and Sami and Hilary sprung into action helping get the set up completed the drinks under ice & into the drink tubs on the tables. Nothing was too much trouble and as guests dribbled in, way after the invitation start time, the food service was delayed without fuss so nobody missed out and paced throughout the afternoon. The whole team worked so well together and with us, it was impressive. Our guests were extremely complementary of the canapes and of the wait service. They certainly know how to bring their professionalism to a function to ensure everything just happened without me having to move away from my guests. Our guests were well attended to.
Wendy Andrews (VIC)

Geoff Hart
Geoff and our waitress Sunny provided us with delicious food for hubby's 60th birthday dinner. It was lovely to be able to have family dinner in our own home with our kids and grandkids while someone else did all the work. Thanks for making it a special night.
Dianne Quinn (VIC)

Geoff Hart
Fantastic food, great service. Perfect night! Thanks guys :)
Andrew Haining (VIC)

Geoff Hart
Food was amazing and the chef was friendly
Phil Thornley (VIC)