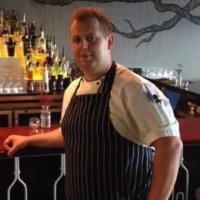 Geoff Hart
10 reviews
5.0
His love of food and cookery became evident at an early age and was greatly encouraged by his Italian Grandmother. Geoff's Nonna would mentor him in her kitchen
Aged 16, Geoff embarked on his chef apprenticeship at the prestigious Royal Melbourne Golf Club under the expert hands of  Executive Chef Mark Weatherly who himself was trained at London's bastion of classical French haute cuisine Le Gavroche, the first UK restaurant to be awarded three Michelin Stars.
In his career he proved himself in Melbourne's household names like Donavans and Pantry Restaurant. As well as in Queensland running Bistro 3 and being the chef on fishing yachts creating daily amazing fresh seafood dishes.
Geoff goes by, "Food shouldn't be confusing. The freshest ingredients are always the best."

Geoff Hart
Words can not express how lovely the meals were on the night. They were fresh and tasty and something that you would expect to have at a high level restaurant. Thankyou for an amazing experience to celebrate some pretty special birthdays. It will be a night that we will be talking about for a long time to come. i would thoroughly recommend Geoff from AtYourTable and would definitely speaking to AtYourTable again when another milestone birthday comes along to book in Geoff again. Thanks again it was an absolute delight!
Graham Shillito (VIC)

Geoff Hart
Geoff did a great job serving up hors deouvres that kept our guests very happy. Lots of complements on the food and service.. he left without a crum in his wake.
David Sullivan (VIC)

Geoff Hart
A big thankyou to Geoff and his crew! My 60th birthday celebrations were amazing! I had a dinner party for myself and 16 friends and family! The food was voted fantastic by one and all! Very tasty and a feast for the eyes as well! Was lovely to let Geoff take over my kitchen! It could not have gone better! Thanks again!
Lorraine Avard (VIC)

Geoff Hart
From the moment Chef Geoff arrived, we knew we were in good hands. His huge smile and welcoming nature made us all feel very relaxed. Everything was seamless, even without the helping hands of a waitress (who was unwell and could not attend) Geoff prepared the most wonderful three-course dinner for us all, topped up our glasses, and provided many laughs to go with it all. It was indeed a very special evening celebrating my Mum's 60th and one that we will remember for so many reasons. Thank you so much, Geoff! Now we just have to think of another reason to have you come and cook for us again.
Amy Minichiello (VIC)

Geoff Hart
Dear Geoff, I want to express my gratitude to you all for making my 60th birthday so very special. You even supplied perfect weather! Sunny and Amanda, our waitress for the evening, were so professional and could not have been more helpful or efficient. As for you, our chef, you food made our evening and our guests were full of praise. Your witty sense of humour and friendly professional manner made you a superb choice for our evening. The whole operation worked like clockwork from start to finish and the food, oh the food - yum. Thank you all so so much. It was a night to remember! Jackie
Jackie Horgan (VIC)