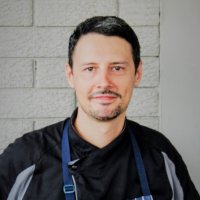 Ian Woodcock
7 reviews
5.0
Having worked as a professional Chef for the past 25 years, Ian is extremely passionate about his trade. His career has given him experiences throughout all aspects of the industry, from local pub food to high end Michelin Star venues. He has had the pleasure of working with some brilliantly talented and well respected Chefs, who have passed on their knowledge, skills and experience, showing him the ways of the trade. He tries to work always with very high quality produce. He believes that if you work with high quality ingredients, then the food speaks for itself and is not covered up with a numerous other needless flavours to compensate.
Some personal highlights of Ian's career include cooking a meal personally for Marco Pierre White in Jersey, The Exclusive Channel Islands. He has also prepared meals for well-known celebrities Whitney Houston and Mariah Carey and World Leaders including Bill Clinton and Tony Blair.
Priding himself in his professionalism and integrity, he takes a great deal of pleasure and satisfaction in having the ability to create simple mouth watering dishes in the kitchen and bringing them to your personal private residence.

Ian Woodcock
Everything was simply perfect. Ian and Kylie were prompt, clean, quiet in the kitchen (as the dining was close to the kitchen). The food service was on time and our guests were blown away by the flavours on the menu.. it was an incredible experience - food and service superb. I couldn't rate the experience any higher.. will be doing this again for sure.
Maria Whealey (QLD)

Ian Woodcock
Amazing service and the best meal I've eaten in years - still haunted by the food! The whole family was raving. I wasn't sure what I was going to do for my birthday, with family and toddlers visiting, and this was the perfect answer. Everyone had an amazing time, and Ian and his delightful waiter weren't put off by a curious dog and toddler running around!
Madeleine (QLD)

Ian Woodcock
We had a thoroughly wonderful evening. The food was delicious, and Ian was a delight to have at our home. He was friendly and very easy going. Ian prepared a great meal, and left our kitchen spotless at the end of the night. Having a recent newborn, eating in was a great option to celebrate my husbands 40th, we were able to relax and it all felt very special. Would not hesitate to recommend Ian to our friends. Thank you for a fantastic evening.
Tina Brun (QLD)

Ian Woodcock
Ian was a consummate professional from the start. He emailed and phoned me prior to the dinner to ensure everything was as I wanted it. Ian was punctual and friendly. Nothing was too much trouble for him, which certainly took all the pressure off me. This was the first of my parties that I have actually been able to relax and enjoy. He presented us with a fabulous dinner and the guests are still raving about it. He came with all the equipment he required, and left the kitchen in an amazingly clean state. I would highly recommend Ian Woodcock for your next dinner party. Could not fault him. Thanks so much Ian. Kind regards - Roslyn Purcell
Roz Purcell (QLD)

Ian Woodcock
Ian was a consummate professional from the start. He emailed and phoned me prior to the dinner to ensure everything was as I wanted it. Ian was punctual and friendly. Nothing was too much trouble for him, which certainly took all the pressure off me. This was the first of my parties that I have actually been able to relax and enjoy. He presented us with a fabulous dinner and the guests are still raving about it. He came with all the equipment he required, and left the kitchen in an amazingly clean state. I would highly recommend Ian Woodcock for your next dinner party. Could not fault him. Thanks so much Ian. Kind regards - Roslyn Purcell
Roz Purcell (QLD)