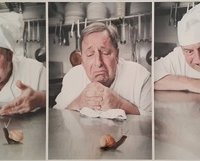 For Igor cooking is his profession, his passion and a way to bring people together. He has 50 years experience – and that is not counting the years he spent with his Grandmother learning the basics.
He has run 3 restaurants as an owner/chef. The first one at 23 was the legendary Bullfrog in Carlton – Melbourne, the second one La Bohème in Bellingen and the last one The Petit Snail in Byron Bay. During his eight years running and cooking at The Petit Snail, he received many awards including Best French Restaurant in NSW and the prestigious N°1 on Trip Advisor; not to mention the pick of Lonely Planet for Byron Bay.
In his early 30s, he worked for 2 years with French Chef Paul Bocuse as his saucier.
He has travelled extensively to North and West Africa and he is well versed in the cooking of these two regions.