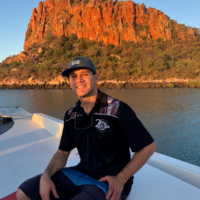 Jean grew up in the south of Brazil in Porto Alegre. His introduction to cooking was at a young age. Surrounded by the culture of Gauchos "Traditional Argentinian Churrasco".
He relocated to Perth in 2005 where he did his formal training at North metro TAFE, before moving to the wine region of Margaret River where he worked at various Wineries in the Region.
Cullen winery, where he spent 4 years as the Sous Chef, utilizing Cullen's Organic garden and building menus to match the Biodynamic Wine.
He then went on to work under Dany Angove at Leeuwin Estate Winery, where he was also the Sous Chef. He worked there for 4 years, contributing to the function of 4 x Gourmet Escapes and 4 x Leeuwin Estate Concerts where he served high quality food for VIP guests.
Jean has also had the experience of being the private chef on a small (14 person) tour boat The Great Escape, he was responsible for cooking high quality meals for the guests on a daily basis, while they cruised around the Kimberley region.
Wood fire cooking remains Jeans passion to this day, his priority is respecting the environment by using grass fed, free range and local produce to create delicious and creative food. He loves to combine traditional Brazilian methods of cookery with fine dining, which results in a unique flavour experience. Jean puts his soul into every meal he cooks, no matter if it is in a restaurant or for his two little boys.