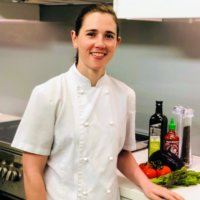 Julie Votano
2 reviews
5.0
Julie is a Sydney-born chef with Italian ancestry. Her passion for cooking began at a young age -she cites her Italian grandparents and parents for her love and passion for cooking and entertaining.
Julie completed her apprenticeship at Guillaume at Bennelong in the Sydney Opera house, where she worked for over 3 years. She has since spent time working in renowned Sydney restaurants including Rockpool on George and Sixpenny.
Julie combined two of her passions, travelling and cooking, when she took the role of executive chef on board a private yacht. Within 2 years she had travelled through the Caribbean, Bahamas, French Rivieras and Italy.
Julie has recently returned from Los Angeles where she worked as a private chef for a high profile family. She is currently studying food science and human nutrition at university with the aim of combining her love of cooking with her passion for health and nutrition.

Julie Votano
Brilliant service, wonderful food.
Scott Mort (NSW)

Julie Votano
Chef was fantastic! Extremely happy
Phil Chester (NSW)