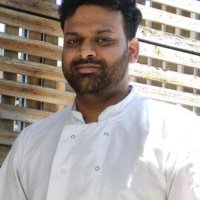 Kamel Kant
3 reviews
5.0
Kamel is a qualified chef, with an enduring 15 year tenure in Melbourne that has seen him at the helm of some of the city's most iconic restaurants, sporting venues and colleges. Also including 7 years at Melbourne Racing Club, 2 years with celebrity chef Luke Mangan, 1.5 years at University College and consulted The Atrium in Queensland. Back in town he worked with Ian Curley at Black Caviar, stood his own at Hyatt CBD and run the show at The Point in Albert Park. He believes every place teaches you something new that lets you grow further into the chef you always wanted to be.
His strength is that he adapts to any environment and kitchen to cook greatness for an amazing experience. His love for food and attention to detail makes him the chef you want to cook your dinner.

Kamel Kant
We had a fabulous night, I was a little nervous about how good the food could be given prepared signficantly before it got to our house, the chef's only needing to be there less than 2 hours prior to service, and we had a 3 course sit down dinner for 30, BUT I had no need for concern, it was just perfect, food was delicious, Chef's and the single waitress we had were wonderful, so friendly, engaging but in the background, Even our most foodies of friends were raving. Was a special night for my 50th so just soooo lovely to not be in the kitchen where I would normally be (which I love). Couldn't pick a fault, oh, and everything was washed, cleaned, packed away, a massive thank you. Our friends were blown away, loved the idea, very impressed. A very happy Big Birthday girl!
Dani O'Hare (VIC)

Kamel Kant
Chef and waiter wonderful
Jo (VIC)

Kamel Kant
We had a late change of chef due to illness, however Kamel stepped up to the plate (pun intended) and delivered an outstanding meal. His pleasant demeanour, on time service and excellent cleaning up meant that the evening was enjoyed by absolutely everyone, especially the hosts. His waiter, Angus, was also excellent and provided unobtrusive and friendly service all night. Thoroughly enjoyed and recommended!
Dean Minett (VIC)