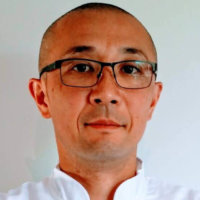 Kengo Hiromatsu have been a Chef for over 25 years. He was born in Fukuoka, Japan, where he started as an Apprentice Chef at a sushi and kappo (fine dining) restaurant in Japan. There he thoroughly learned how to prepare sushi and Japanese cuisine, including blowfish treatment.
Kengo came to Australia to learn patisserie and Western cuisine at school. Based in Melbourne he has worked in many restaurants, including Bacash, Nobu, Akachochin and Sake.
Kengo got most of his experience from working at the fine dining restaurant Nobu. There he learned the possibilities of Japanese cuisine and how to use fusion techniques to combine Japanese food with other cuisines.
Kengo can't wait to cook for your next dinner party.

Kengo Hiromatsu
Kengo was excellent and the food was delicious. He was very professional, on time and attentive. Absolutely first class.
Ken (VIC)

Kengo Hiromatsu
We love Japanese food, the taste is like no other and it's purely an art and Kengo lived up to this very high standard of cooking.Food was of a high quality, as was service and presentation.The dessert was probably one of the best I've ever tasted.He was quick at preparing dishes, professional and he did a great job cleaning up afterwards.
Daniella Cannavo (VIC)