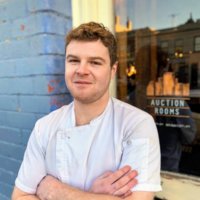 Matthew Knudsen
2 reviews
5.0
A talented chef with 10 years of experience of cooking in New Zealand and Australia.
In his career Matthew has worked in fine dining places like The Stokehouse and as sous chef in Circa. Now he is running the Kitchen in one of Melbourne's busiest cafes Auction Rooms an al- time favourite in North Melbourne.
Since his love is with good food he loves to provide the fine dining experience for you in your home.

Matthew Knudsen
Matt was absolutely amazing. He prepared and cooked a 5 course degustation for my husbands 50th and every single dish was delicious. We had some real foodies at my husbands birthday and they were blown away. I would definitely recommend Matt and I'm looking forward to booking him again soon.
kelly n (VIC)

Matthew Knudsen
Matt was absolutely delightful. A professional in his craft who served us a beautiful 3 course lunch. He showed such care and insisted to remake a dish for a friend who had a reaction to chilli! He explained each course and the kitchen was left sparkling clean. Thanks Matt, you made my 50th birthday lunch unforgettable.
Ingeborg Pratt (VIC)