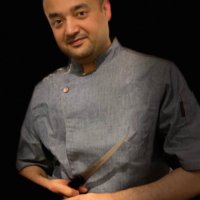 Mukul is a hospitality professional with over 20 years of experience in Five Star Luxury hotels' & resort culinary operations across 10 countries. India (Mumbai, Bengaluru), UAE (Dubai), Saudi Arabia (Jeddah, Riyadh), Jordan (Amman, Dead Sea), South Korea (Seoul), Singapore, France (Paris, Nice), Monaco, Italy (Sardinia, Lake Como), Australia (Sydney, Blue Mountains)
From earning a Bachelor's degree in culinary education and then completing a masters in hospitality, he has spent the good part of the last 2 decades working with some incredible people, chefs of repute and passionate hotel owners. Mukul has trained with Chefs from Nobu, trained at Taillevent (2 Michelin) under chef Alain Solivérès, Le Duc Paris and at Chef Joël Robuchon's restaurant (2 Michelin) at Metropole Monaco.  He hasalso trained in the California Sushi School.
As an astute food and beverage operator, he has been involved in the pre-opening planning and opening of 2 royal palaces, Ritz Carlton Riyadh, Taj Bangalore, 2 luxury yachts. He started his Australian journey as the Director of Food and Beverage of Shangri-La Hotel Sydney, running Altitude, co-creating high tea at BluBar etc. He has also run operations for The Westin Hotels, Pier One Sydney as the Director of operations.
In the Mediterranean and France, he had the honour of cooking for Prez. Jaques Chirac, Rupert Murdoch, Ellie Saab, Donatello Versace, Chris Tucker, Michael Jordan, Janet Jackson, PM Saad Hariri, Jackie Chan, Alessandro Sartori (Berluti and Ermenegildo Zegna), Tony Fadell (iPod's/ Nest creator), Henry Cavill, Sarah Jessica Parker, Aishwarya Rai, Sachin Tendulkar, Mathew Hayden, Ravi Shastri, Amitabh Bachchan, Shane Warne, Steve Waugh, Sir Ian Botham etc. He has also done a launch for Gucci in Mumbai, the wedding of the world's youngest billionaire Hind Hariri in Paris, Liz Hurley's pre wedding and multiple high profile events including royalties, Kings and Queens that he can't mention because of NDA's.
Mukul is versatile, enjoys the challenges of modern cuisine and working in the kitchen to satisfy people with mutual admiration for fine cuisine. He is here to deliver food, beverages and create events that would bring happiness for all involved.