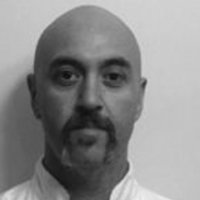 Philip Azzarello
15 reviews
4.6
Philip grew up in the eastern suburbs of Sydney, to parents of Egyptian/Italian descent. Being surrounded by food all his life, his passion for the hospitality industry easily blossomed, leading to his colourful 23 years in the industry.
After completing his apprenticeship he moved to the UK and worked his way up the ranks at some of London's most reputable establishments, such as The Metropolitan Hotel Hyde Park and The Savoy Hotel's sister restaurant, Simpson's on the Strand, where he was Executive Sous Chef and had a brigade of 43 Chefs. It was here that he cooked for members of parliament as well as numerous celebrities.
He then ventured to France where he worked in Toulouse and Marseille, learning the classics of fine French cuisine. He worked in little towns where he focused on adapting his knowledge to further his love for cooking and bringing people simple yet elegant food.
It was there that he began to combine this classical French cooking knowledge with the Singaporean palate.
After a few years he moved on to take charge of the kitchen at Restaurant 789 in Malaysia. There he obtained more knowledge in Asian cooking, which added to his interest in fusion cuisine. Now, every menu he creates has touches of classical French along with the local flavours.

Philip Azzarello
We loved having Philip and would have him again in a heart beat. I had asked if there was a possibility to do a croquembouche tower as a birthday cake instead of plated and he did this for us it meant so much! Phil was so open and understanding and made this experience the best yet and my family couldn't stop raving about everything. The food was amazing and you didn't need any salt and pepper or sauces on top was just quality outstanding service just can't fault what so ever so thanks so much again Phil!
Tae Viri Brown (SA)

Philip Azzarello
Chef Phil was excellent. He was courteous, professional and on the mark. We loved his narrative about the food and his sassy attitude. Phil's overall contribution made the afternoon a spectacular success and a very memorable event for us and our friends. Phil also provided some emergency catering for a couple of small children who attended, which was truly above and beyond our expectations. Waiting staff Aaron and Anna were also amazing. They were only too willing to help, stayed on into the afternoon to assist with dessert and impressively were on a first-name basis with everyone within the first half an hour of arrival and were completely across those with dietary requirements well in advance of food service.
Gavin Blake (SA)

Philip Azzarello
Chef Philip prepared an excellent 5 course tasting menu for our guests - the food was to die for. His easy going relaxed style when he introduced each course worked well with the group who really appreciated his insights to the food and his background. Everything ran like clockwork to the scheduled we had agreed - and no one felt rushed in any way. Additionally the wait staff were also very good - they were highly attentive to serving our guests while in no way being intrusive, clearly they had been well trained. All in all this was a fabulous event, and in fact was the second time we have used At Your Table.
Keith Murray (NSW)

Philip Azzarello
Philip and his team were fantastic - very professional. My party of 75 guests enjoyed the meal and there were lots of great comments. Thanks Philip for making my special birthday very memorable. It was excellent. Highly recommend Philip!
Lidia (NSW)

Philip Azzarello
Phil made me feel completely at ease and relaxed as he arrived. The food was great and it was such a pleasure to have his commentary on each dish.
Emily McCutcheon (NSW)