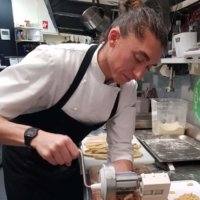 Radu Cebotar
1 reviews
5.0
With over ten years of experience working in fine dining restaurants and catering companies Radu developed a passion for a kitchen that focused on the use of local, simple and high-quality ingredients which can bring the most pleasant experience to the palate.
Growing up in Italy, with a Moldavian background, he got interested from a young age in culture and local gastronomy. The passion for travel brought him to Melbourne where he is currently living. Curiosity and passion is what drives him to live life dynamically.

Radu Cebotar
Friendly and professional, chef Radu cared for even the smallest details. His passion for local ingredients topped off the amazing dishes he served (which would put some high end restaurants to shame).
Adam Norgate (VIC)