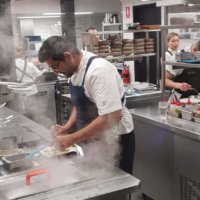 Rahul Punjabi
6 reviews
5.0
Rahul has been cooking in some of the best kitchens of Australia for the better part of the last decade. Currently working at 3 hat fine diner "Quay" and previously as a Jr. Sous Chef at Glebe's beloved 1 hat restaurant "The Boathouse on Blackwattle Bay", he brings with him a touch of finesse and high impact flavour.
His speciality is Modern Indian food; traditional flavours of India served to cater to modern tastes and styles. However Modern Australian dishes are well within his repertoire. His cooking style is understated and simple food executed well.
Rahul is a big believer in customer service. He believes that the host's party is the top priority and endeavours to live up to all expectations.
To see his latest work, please follow on Instagram @rahulpunjabi92

Rahul Punjabi
Punctual, polite and professional, excellent cook, and very well prepared. We were most impressed with Rahul and wouldn't hesitate to recommend him to our friends.
Pradeep Rajendran (NSW)

Rahul Punjabi
Rahul was absolutely brilliant and his food was amazing. We loved Rahul's presentation and as we enjoyed each dish he brought the dishes to life with great stories behind the inspiration and ingredients. We can't recommend Rahul highly enough...
Sudeep Gohil (NSW)

Rahul Punjabi
Rahul was the most amazing chef. (He had me at "society garlic flowers"). But seriously, he managed to cook with the most subtle and exquisite Indian flavours, turning already amazing food into an art form. And don't get me started on his wife and what she does with chocolate. Sooooo divine!!! It was a really special evening. Thankyou.
Tanya Lake (NSW)

Rahul Punjabi
The food was unbelievable, the service was immpecable and Rahul went above and beyond our expectations!
Vesna (NSW)

Rahul Punjabi
I cannot be more complimentary of Rahuls menu. His delicate use of spices and refined use of ingredients is amazing. Rahuls personable approach to his menu blending modern Australian with his Indian heritage makes for a truly memorable and delicious dining experience. Highly recommended and we look forward to rebooking!
Kylie Ryan (NSW)