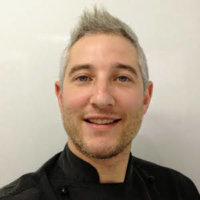 Jason's passion for food started at a very young age, baking cakes with his mum, long before he knew the difference between plain and self-rising flour. He discovered the difference after making a beautifully designed, but flat and heavy apple cake. His young inquisitive mind went to work trying figure out how to make it better, and his love for food was born. From then on he has always questioned the status quo and looked for a better way.
This determination led him to his first Head Chef role at the completion of his apprenticeship. His continuing drive saw him gain invaluable experience through working with Chefs in the top restaurants around Sydney.
Jason then applied this knowledge in several Head Chef positions in Sydney's top restaurants. His hunger for new experiences and challenges saw him venture into catering, where he has concentrated his efforts over the past few years. Jason's approach to cooking is to balance clean flavours with layers of texture.
Five years ago Jason discovered a passion for teaching while working with a corporate team building company. Jason became a qualified trainer and assessor, and began running cooking events and classes through a variety of mediums. His future goal is to become a Tafe teacher so that his 20 years of cooking knowledge and his enthusiasm can inspire budding apprentices.

Jason Ludwig
We asked Jason to be our chef for some of our biggest clients. They were thoroughly impressed! Impressed with the food, the atmosphere, and the service. We will definitely ask Chef Jason back again.
Charis Lane (NSW)

Jason Ludwig
Chef Jason was amazing! The food was beautiful and he presented himself and the dishes wonderfully. We really enjoyed the evening and loved Chef Jason's approach to cooking, using fresh and local produce, providing his own crockery, including custom made side dishes. Chef Jason was very personable and left everything clean and tidy. I would recommend him to anyone for an event, he was fantastic. We will definitely be booking again in the future.
Charis Lane (NSW)

Jason Ludwig
The service was incredibly, food sensational, both Chef Jason & Chef Clancy were friendly and professional, wait staff was a delight - couldn't have asked for better service. This is an exceptional business and we can not wait to be able use 'At Your Table' again!
Jessic Burton (NSW)

Jason Ludwig
Scott and the family thoroughly enjoyed Jason's cuisine and had a wonderful evening. Thank you!
Ruth Kapea (NSW)

Jason Ludwig
Everyone had a great time and complimented the food. I didn't have to cook or clean so I had a great time. Ate to my heart's content.
ROB DOMABYL (NSW)