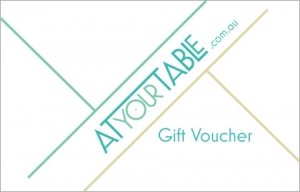 Struggling to think what gift to buy that special Someone?
Our personal chef gift vouchers are the perfect gift for anyone.
I mean, who doesn't love to be waited on hand and foot with delicious food?
We can create a voucher for any of our Personal Chef services and to fit any budget. We design and deliver the voucher to you so there is no need to face the last minute Christmas rush at the shops.
At Your Table is Australia's premier personal chef service. We turn your dinner parties and events into nights to remember, bringing the luxury and service of the finest restaurants to the privacy and comfort of your home or venue.
Over the past 5 years we have built a team of the country's finest and most experienced chefs, now including one or two celebrities. We also have a number of the few Michelin Star trained chefs in the country and all our chefs have individually designed menus for you to choose from.
Order Now
Contact Us to order your Voucher below or call us on 0429 506 964
Thanks to our customers At Your Table has received 506 reviews with an average rating of out of 5!
Here's what a few of our customers are saying;
Thanks to the 'at your table' team, we had a sensational celebratory lunch for 15 on Sunday that was truly memorable. Katrina arrived on time and quickly got into the kitchen, and there she stayed, quietly and intensely focused on delivering delicious and beautifully plated food. We watched her move through the kitchen with ease and commitment to delivering the best. What a treat. Two wait staff kept the wines flowing, and the water glasses were always full. Needless to say, everyone went home by taxi and contacted me the next day and said it was a fantastic and unique experience.

Chef: Katrina Hollis

Diana Sykes (NSW)
Rory was exceptional! He over delivered on the brief and the care he took with dishes was just a pleasure to eat and see! The organic produce was divine and end product was a real experience. Rory was part of the event and added to celebration vibe for my Husbands 40th.

Chef: Rory Taber - Food: | Service:

Beth O'Brien (NSW)
The dinner was great!
Jason cooked some great food and the whole experience of being able to pick his brains on how he cooked everything and cooking in general made it an awesome experience. He really is passionate about his food and it really showed in the meals we ate.

It was pretty strange having someone else cooking for us in our kitchen while we just sat there and drank wine though!

Thanks for the experience  it was definitely a memorable night.

Chef: Jason Ludwig

Brett Peacock (NSW)
Contact Us
Choose your chef, pick your dishes and contact us for a free quote.