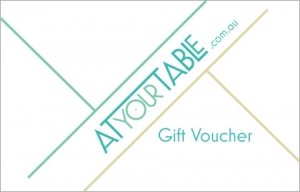 Struggling to think what gift to buy that special Someone?
Our personal chef gift vouchers are the perfect gift for anyone.
I mean, who doesn't love to be waited on hand and foot with delicious food?
We can create a voucher for any of our Personal Chef services and to fit any budget. We design and deliver the voucher to you so there is no need to face the last minute Christmas rush at the shops.
At Your Table is Australia's premier personal chef service. We turn your dinner parties and events into nights to remember, bringing the luxury and service of the finest restaurants to the privacy and comfort of your home or venue.
Over the past 5 years we have built a team of the country's finest and most experienced chefs, now including one or two celebrities. We also have a number of the few Michelin Star trained chefs in the country and all our chefs have individually designed menus for you to choose from.
Order Now
Contact Us to order your Voucher below or call us on 0429 506 964
Thanks to our customers At Your Table has received 614 reviews with an average rating of out of 5!
Here's what a few of our customers are saying;
The dinner experience provided by Charlotte and the waitress (sorry, but I can't remember her name) was absolutely fantastic!

It was just for my wife and I, and our two young kids and everyone got a real thrill out of it! Especially the kids.

The concept was great for a special occasion, the food itself was exceptional and the service incorporated in it all was amazing.

Charlotte and the waitress were ultra professional and made the experience really enjoyable and something we will remember for a long time.

On top of all that, our kitchen was cleaner after they left than before they arrived!

Many thanks for a great night.

Chef: Charlotte Miller - Food: | Service:

Christian Day (VIC)
What a great experience this was. Gerhard was calm, proficient, polite and gave us great confidence in what was about to unfold. And the man can cook! The food was beautifully presented, well-timed and simply delicious. It was a joy to eventually leave the table to find a spotless kitchen and no work to do! We, and our guests, were really delighted with the whole process – 'blown away' said one of our guests.

Chef: Gerhard Wayd - Food: | Service:

Linda Magee (NSW)
Chef Jack arrived on time with everything he needed to prepare a wonderful Christmas dinner for our family of 6. Each thoughtfully prepared dish was beautifully arranged and delicious. We wish we could have all of our meals prepared by Chef Jack! He helped make our Christmas really special.

Chef: Jack Park - Food: | Service:

Lisa Small (WA)
Contact Us
Choose your chef, pick your dishes and contact us for a free quote.