We have Melbourne's best Personal & Private Chefs
Melburnians have become food connoisseurs thanks to the wide variety of high quality restaurants and eateries around town, in fact if it's about food, Melbourne is where it's at! From casual coffee shops in the Laneways to the best of fine dining, Melbourne is the gourmet capital of Australia, its chefs come from all over the world and have brought many food cultures to the melting pot of this city.
Gourmet food, ethnic food, clever food, innovative food, formal, informal it's all out there right on your doorstep. But what if you could bring that experience over the doorstep and into your own home? Our private chefs do exactly that.
At Your Table has a team of dedicated and professional private chefs across Melbourne who will deliver a unique experience of the highest quality especially for you.
Covering all areas of Melbourne, our chefs are handpicked because of their background in the finest, award winning restaurants and hotels from around the world. These highly talented chefs are ready and waiting to take the stress away from all your private dining events. They are creative and passionate, keeping up with the very latest trends and techniques so you can be certain that your chosen menu will be up to the very best Melbourne has to offer.
Our Melbourne chefs have their own individual style menus, the choice is yours, let them do what they do best while you sit back and enjoy a world class restaurant experience in your own home or venue of choice. They will not only provide the best produce on offer and cook a sublime meal but share their food choices and techniques with you and your guests involving you all in their culinary journey.
Everything you need to know about hiring a private chef in Melbourne
At your Table is your one stop shop for finding a private chef and we offer a personalised service tailored to your individual requirements.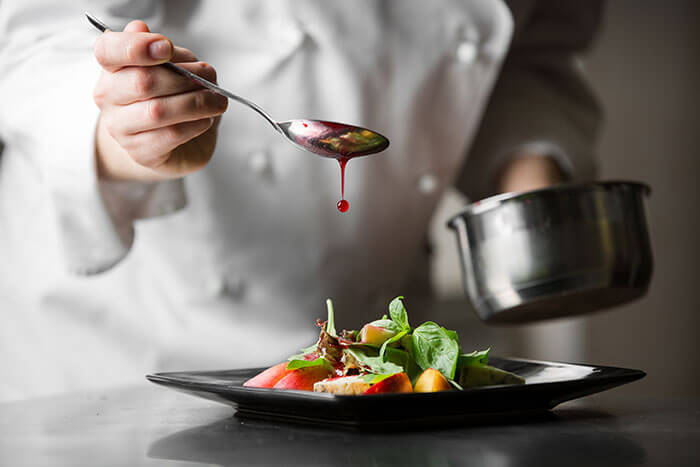 What kind of events do we service?
We cover all types of catering from small intimate dining, to large gatherings, for a few hours or a few days, formal and informal and for many different occasions.
Our private chefs can work in a variety of locations across Melbourne, your own home, a chosen venue, indoor and outdoor, a holiday home, a luxury yacht, a park or at the beach, just about wherever you need us to be.
How are chefs selected?
As all our chefs are experienced professionals, you can rely on the quality and high standard you would expect in a top restaurant, after all that's where we find them.
You can read up on their credentials as all our chefs have provided a bio detailing their experience and expertise, signature menus and we ask for client reviews after every booking. Have a browse and get a feel for who will deliver the kind of thing you have in mind.
Is everything cooked at the event?
Some food preparation will be done off site but your personal chef will work in your kitchen or chosen venue to deliver the final result.
Do you set the table?
You will need to provide the table settings, however if you have more guests or want us to help we can arrange that for you as well, just let us know.
For small gatherings, the chef will serve you and your guests, but for larger numbers we provide fully vetted and trained wait staff.
Who does the washing up?
Our staff will clear everything away and load your dishwasher, leaving your kitchen exactly as they found it. You really won't need to lift a finger.
If you are still undecided, then give us a call and we can work with you to make yours a very special experience.
How to Hire a Private Chef in Melbourne
At Your Table Melbourne offers a unique and personal concierge service that will comprehensively guide you through all your decisions as you plan the perfect event with simplicity.
Decide on the type of event you wish to host, a dinner, a party, a picnic, a weekend away, a surprise, an informal or formal occasion and where that will be.
Choose the type of cuisine, maybe modern Australian, Mediterranean, Classic French, Asian, or fusion.
Deciding on one of our private chefs is the first step in creating your perfect experience. You now know what type of event and food style you require so pick the chef who sounds perfect.
Look at the sample menus to see which suits you the best, but they are not set in stone and we can fine tune them according to your requirements.
Think about the number of courses or the varieties of food you would like.
Then call us so that we can talk together to finalise everything, we are the professionals and won't let anything slip by so you can rest assured that nothing will be forgotten.
How Much Does a Private Chef Cost?
At Your Table brings incredible value to the luxury of your very own private chef, coming in at similar or often lower than restaurant prices with the benefit of a private and customised experience.
Our chefs have menus starting at $89 per head but that will vary according to the number of guests and courses you require, the more courses you decide upon will increase the price but the more guests you invite spreads the fee of the chef and can be very cost effective.
There are no hidden extras, all food, preparation, cooking, presentation, service, clearing and washing up are part of our inclusive package.
Melbourne Suburbs covered by our chefs
Our private chefs can travel pretty much anywhere in Melbourne, from the Inner and Outer North down to the Southern city of Bayside, and across from the Inner East and Outer East to the City Fringe, and the Inner and Outer West. If you live within the Metro Area, within a 25k radius of the CBD, then this is all included in our pricing.
If you live further afield, no worries, because our chefs will travel up to 50k from the city centre with just a surcharge for fuel, tolls and travelling time for the chef and waiter.
So wherever you live in Melbourne we've got you covered, our private chefs are on hand to visit you and bring the fine dining experience of the city right into your home.
Our Top 4 Private Chefs in Melbourne
Choosing the perfect private chef is the key to your success. Melbourne is home to some of the best, and we are proud to bring them to you. Read what they have to say and you will soon get an idea of what they have to offer. We have a large number of chefs on our books, each with something different to offer, but here's a look at our most popular to give you some idea of what you can expect.
Chef – Jess Allen
Melbourne Chef – Modern Australian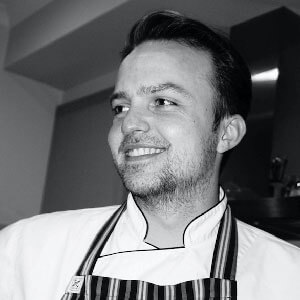 How would you like a little table side theatre and presentation to make your dinner party all the more memorable? Jess incorporates that little extra and being classically trained in French and Italian cuisine, with a love of South Asian flavours, Jess' menus are a fusion with a focus on the purity of flavour of each ingredient. Having worked in the progressive cafe culture at Industry Beans followed by stints with some of Melbourne's top chefs, James Webb (Hyatt), Robert Kabbord (Merricote) & Ian Curly (European), Jess is sure to be a great choice.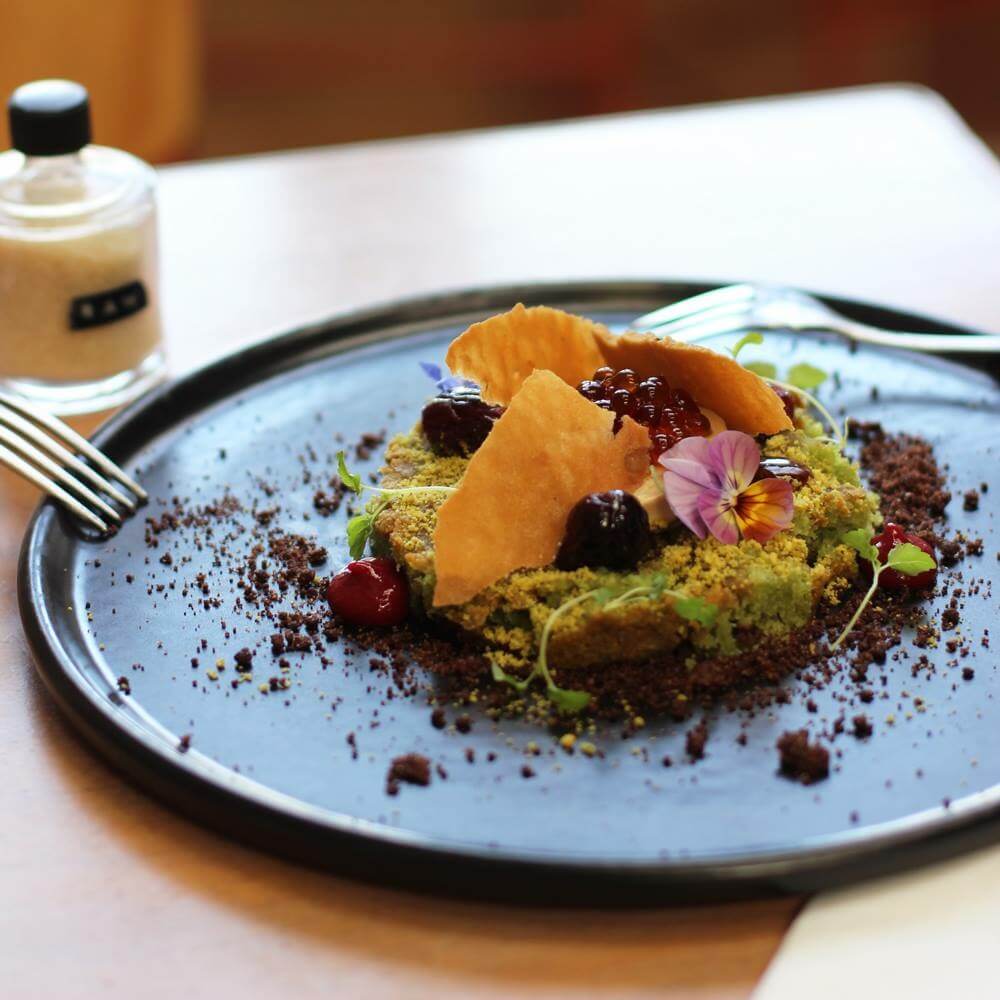 Let Jess tempt you with some of his clever creations:
Master Stock Crispy skin duck breast, fermented wombok, lap chong, butternut squash & duck broth
Pan Seared Barramundi with Sea Succulents, celery hearts, panko mussels & lemon
Lime and ginger creme brûlée with salted caramel popcorn
Petit Fours – chocolate fondant tartlet, raspberry friand, profiteroles, lemon meringue posset

Jess Allen
Jess and Christine were so professional and friendly. The food was exceptional and they left behind a tidy kitchen! It was a pleasure to have Jess come and cook for our and have the wonderful service of Christine. Every dish was delicious, beautifully presented and the Lemon Meringue tart to finish was a standout. Would love to use them again.
Kiki Pillios (VIC)

Jess Allen
Jess was fantastic and would highly recommend.
Chris Jurcutz (VIC)

Jess Allen
We had a phenomenal night thanks to Chef Jess, Christine and the team from At Your Table. Delicious food in the comfort of your own home, with none of the hassle.
Monica Wallace (VIC)

Jess Allen
Very happy with the chef and staff, food was excellent, service was non invasive. We had canapés for entree and sit down main. If anything we would've liked more quantities for the canapés and maybe some bread rolls to go with the main. Overall though everyone was happy. I would definitely recommend Jess and At Your Table.
Helena Morgan (VIC)

Jess Allen
Chef Jess arrived promptly and was genuinely interested in serving great quality food presented beautifully. Our waitress, Beth, was attentive and did a really good job of cleaning up afterwards.
Sam Gercovich (VIC)
Chef – Thomas Damm
Melbourne Chef – Modern Australian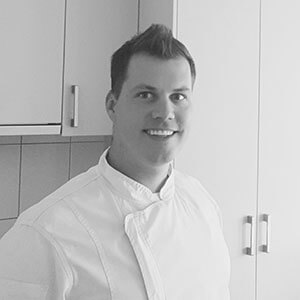 Looking for a chef who takes pride in all aspects of his work with an emphasis on quality ingredients and perfect execution? Thomas could be the answer! As a young chef, he gained experience in Michelin Starred restaurants in Germany and on coming to Australia, Thomas fell in love with Melbourne and its progressive food scene, working in the legendary Stokehouse and refining his modern approach.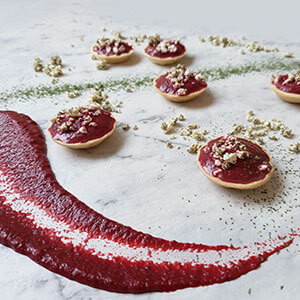 Some enticing flavours from Thomas:
Chicken nduja roulade in spinach, with mushroom duxelle, shaved Manchego and spring onion oil
Barramundi fillet baked in a paper parcel on green asparagus and thyme honey baked cherry tomatoes and potato pears
Gianduja chocolate ganache tarte with mandarin, coffee soil also honeycomb
Apple tarte Tatin with whipped vanilla sauce Anglaise, toasted almonds and cranberry gel

Thomas Damm
Excellent experience for a dinner party for 8 people. The chef was fantastic, great food and explanation of ingredients. The waiter was also excellent, very attentive and efficient. Highly recommend.
Maria Armstrong (VIC)

Thomas Damm
I just wanted to send a big THANK YOU for all your hard work on Saturday night. Given we changed the arrangements on you at the last minute – bringing the dining inside, rather than the preplanned outside – you dealt with all of that with professionalism and aplomb. It helped to make the night run very smoothly. In fact, it was a really lovely night and in no small part because of you, your staff and the dishes you prepared and served for us. I had many compliments regarding the food and attention to detail from you and your staff. They were very impressed, as was I! I couldn't fault my meal; it was just stunning. As well as those having the main menu, the two people who had the vegetarian dishes said their meals were just superb as well. Thank you too to your staff (Gavin, Paul and Lucy) for all the hard work during the night to make it run so smoothly. I didn't have a concern about anything all night, which is a testament to the professionalism of you and your staff. Thanks again for making such an important night so special for us.
Susanne Kean (VIC)

Thomas Damm
Excellent!! Loved it all!!
Sandra (VIC)

Thomas Damm
Food was delicious and service great.
Deb Cook (VIC)

Thomas Damm
Thomas was very friendly and accommodating and most of all an excellent chef. The food was delicious.
Satish (VIC)
Chef – Ryo Northfield
Melbourne Chef – Fusion of Japanese and modern Australian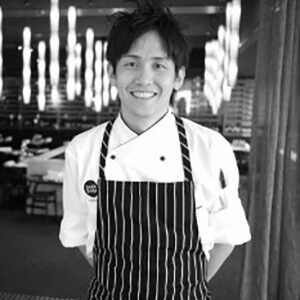 Are you adventurous and want to try the best in modern Japanese fusion food? Chef Ryo pioneered a new style of cooking while working at Heirloom following his training at the prestigious Tsuji cookery school. As head chef to the legendary French Iron-Chef Hiroyuki Sakai he excelled and is regarded as his star protégée. So for something a little different and cutting edge, Ryo would be your perfect choice.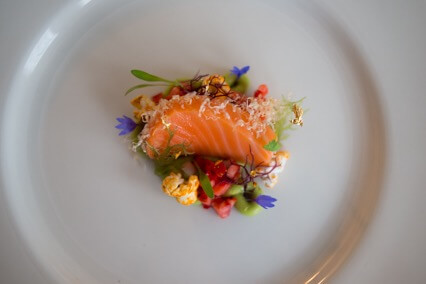 Let Ryo excite you with a sample of his creations
Quinoa crusted cod with celeriac purée, yuzu, sweet soy
Gastric glazed chicken breast, brick pastry with potato truffle, miso, baby cos
Houji Tea Date pudding, caramel apple, lemon jam, rosehip, chocolate pop
Matcha financier, mango and passion fruit curd, kumquat, caramel popcorn

Ryo Northfield
Ryo was an amazing chef, from start to finish the 5 course degustation was delicious and all our friends agreed it was truly a fantastic experience. Dana the waitress was really Accomodating and helpful throughout the night and very much appreciated! Only negative if there was one was around miscommunication of plates and who was supplying. Otherwise 10/10 night!
Martin G (VIC)

Ryo Northfield
He was attentive and engaging and produced high quality food. We liked him a lot.
David Morton (VIC)

Ryo Northfield
Ryo was fantastic, the food was perfect for our gathering and he was wonderful on the night. Really made our party.
Chelsea (VIC)

Ryo Northfield
Excellent all around
Marsha (VIC)

Ryo Northfield
Chef Ryo prepared incredibly good sushi for our event. Everything that came out of the kitchen was fresh, immaculately presented and exceptionally high quality. It's hard to describe how good it was, other than to say there is something uniquely subtle, sophisticated and special about the taste of maki, nigiri and uramaki prepared on the spot by a trained master. To have that in your own kitchen really was special, and a highlight of our night. He was also very accommodating to what we wanted, and exceptionally easy to deal with. Considering the quality and quantity of what we got, the price was absolutely reasonable. The At your Table team was easy to deal with and arrange the event with, and the operational aspects of having Chef Ryo visit the house were all very easy. I would (and have already started to) highly recommend chef Ryo to anyone who loves fresh high quality sushi and wants something really special for their next event.
David Stone (VIC)
Chef – Glen Robberts
Melbourne Chef – Modern Australian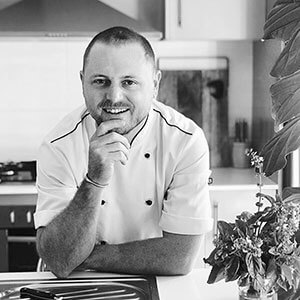 Do you set great store by fresh and foraged local ingredients? This is Glen's passion, having grown up in South Africa where the great outdoors yields a wealth of produce, he then spent 3 years on a Cordon Bleu course followed by experience in Le Quartier Francais which was the number 1 restaurant in South Africa at the time. A spell on a luxury private yacht sparked his enthusiasm for working with individual clients to create a memorable experience that could be yours!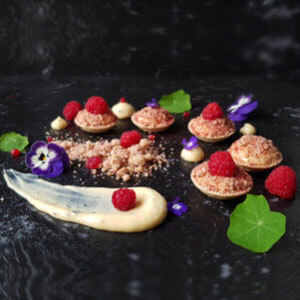 Some tempting dishes from Glen
Pecan smoked lamb blackstrap, pea and mint purée, glazed baby carrots, confit garlic, jus
Olive crusted mature goat cheese, artichoke,peas, confit heirloom tomatoes, sweet herb vinaigrette
Iced hazelnut nougat, salted caramel, local raw honey, sesame tuille
Crepes Suzette, burnt butter, Verjuice & saffron poached grapes

William Poveromo
William and his team were fantastic and food was delicious!!! They left everything clean and tidy 🙂
Jess Robinson (NSW)

William Poveromo
Chef William and waiter Marty were friendly, efficient and delightful. The food was absolutely delicious. They made our celebrations very special and I would highly recommend them.
Dianne Patrick (NSW)

William Poveromo
William was outstanding. The food was delicious! He was lots of fun and made it such a special occasion. I can recommend more highly. Will definitely get him again
Edwina Ekins (NSW)

William Poveromo
Chef William was impressive from the start. He easily accommodated our request to remove the dessert and add side dishes. Chef William then suggested two fantastic canape additions to round off a tremendous menu. The execution of the menu was first class. The wagyu steak was a melt-in-your-mouth kind of delight. Can't recommend him highly enough.
Jonathan Cawte (NSW)

William Poveromo
Chef William's food was one culinary delight after another and so beautifully presented. Chef William and waitress Kat were so relaxed and personable. It was a pleasure to have them both at our special occasion. It was the cherry on top to have the kitchen spotless again before they left. What a treat.
Charlotte Jameson (NSW)
The Benefits of hiring a private chef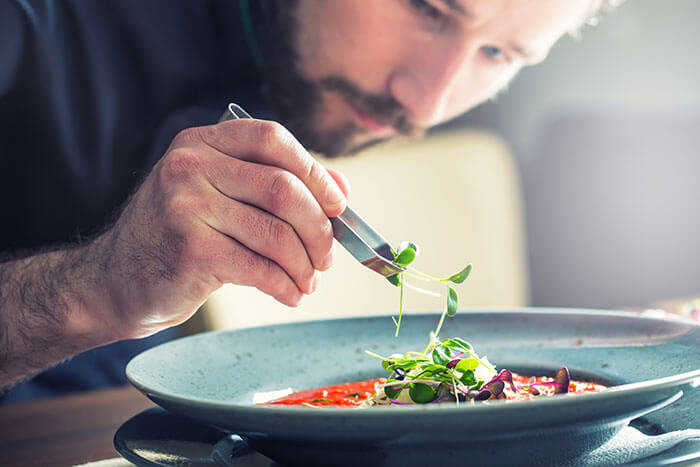 Restaurant quality food exquisitely presented by a professional chef
All food preparation is done efficiently and effectively without you having to lift a finger.
Wow your guests with an out of this world customised menu
All you do is set the table, put on your glad rags and relax while we do all the hard work
You won't even need to serve your guests, leave that to your chef, or our wait staff
Best of all, no clearing away or washing up, we will leave your kitchen just as we found it!
You can save on costs by providing your own wine, and we won't charge corkage
You won't need babysitters, taxis or trying to find car parking
savings to be made on wine plus many more…
Why Choose At Your Table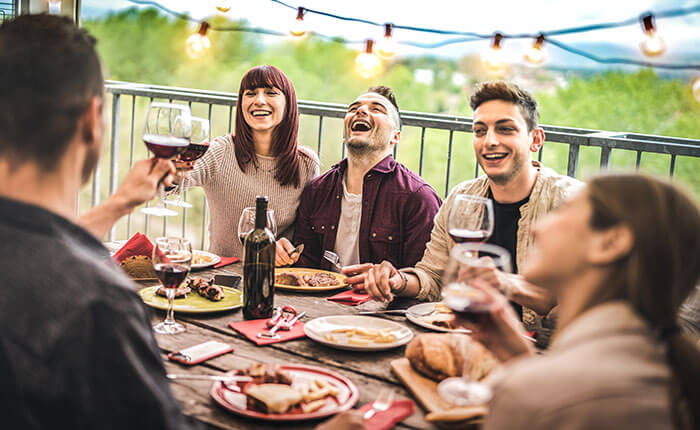 We have been around the longest, in fact since 2008, and have built up an exemplary reputation
We provide a concierge service where we talk to our clients to customise their experience
We manage the whole booking from your initial enquiry to the delivery of the event on the day
We have the most chefs on our books, all of them consummate professionals with vast experience
We offer complete flexibility to tailor make each and every booking
We guarantee a comprehensive price with no hidden extras
We are covered by a multimillion dollar insurance policy for absolute peace of mind
We use a secure payment system that you can rely on
We excel in providing all round customer service
You can find out more about our guarantee and read some of customer reviews if you would like to know more.
At Your Table Private Chefs Melbourne address
At Your Table Private Chefs Melbourne
Level 10
440 Collins Street
Melbourne
Victoria
3000