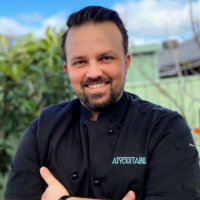 Jess Allen
20 reviews
5.0
Jess was 10 years old when he cooked his first meal. It was macaroni cheese – Maggi of course. Jess's mum and dad were shift workers at the time, so he took the responsibility to feed his younger brother and sister. The next meal was spaghetti – he loved the crunch of undercooked pasta as a child.
Moving forward 7 years, Jess dropped out of high school to pursue his passion for cooking. He started out in a small family run CBD business before deciding to try working at hotels as a way to define his skill and technique. He moved into the Melbourne brunch scene in 2012, with a stretch at Industry Beans, Fitzroy where they were pushing boundaries with food and coffee in the progressive Melbourne cafe environment.
Jess was lucky enough to have worked and learned under amazing chefs such as James Webb of the Hyatt Hotel, Ian Curly of the European and Robbert Kabbord of the Merricote, which is paramount for any young budding Chef.
Classically trained in French and Italian cuisine, with a love of Southeast Asian flavours, Jess's menus are representations of modern Australian cuisine with a focus on the purity of flavour from each ingredient.
Jess also loves to give a little bit of table side theatre and presentation to make your dinner party all that more memorable.

Jess Allen
What an amazing experience! Jess made us feel so comfortable throughout the evening and made sure to cook an amazing 3 course meal. My pregnant wife and I thoroughly enjoyed what he presented and we appreciated him catering for my wife's pregnancy.
Tshepo Molefe (VIC)

Jess Allen
Jess was fantastic - very flexible with the Menu and the food was delicious.
Stephen Shostak (VIC)

Jess Allen
Jess was fantastic, food was wonderful! The waitress however was young and inexperienced, had to keep asking her to bring wine and water for the guests.
Vikki Gardiner (VIC)

Jess Allen
Jess was lovely and explained what we were eating before every course. The food was served quickly and the waitresses were lovely and efficient.
Heidi Clarris (VIC)

Jess Allen
Chef Jess was wonderful! He brought Chef Johnny with him, and the food was incredible! Two weeks later and our friends are still talking about it. Jess has a great attitude and was definitely a crowd pleaser.
Sharon (VIC)