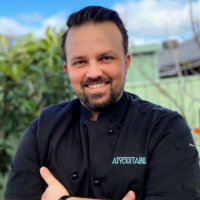 Jess Allen
27 reviews
5.0
With over 20 years of experience in hospitality, chef Jess has experience across a broad range of cuisines from working all over Melbourne's diverse fine dinning scene.
Jess completed his apprenticeship in the once renowned three hat Radii Restaurant of the Park Hyatt Hotel, had stints at the European under statesman Ian Curly and a career changing time spent with Dutch mastermind Robb Kobbord at Merricote which Jess highlights as a big turning point in refining his skill and technique.
In 2014 Jess made the switch and landed in the unique Melbourne brunch scene with a very successful tenor at Fitzroy's famous Industry Beans coffee which was named the worlds best brunch during his time there.
Now a personal chef, Jess has had years of experience specialising in in-home dinning and has a genuine personality and professional approach to every event.

Jess Allen
Jess and Christine were so professional and friendly. The food was exceptional and they left behind a tidy kitchen! It was a pleasure to have Jess come and cook for our and have the wonderful service of Christine. Every dish was delicious, beautifully presented and the Lemon Meringue tart to finish was a standout. Would love to use them again.
Kiki Pillios (VIC)

Jess Allen
Jess was fantastic and would highly recommend.
Chris Jurcutz (VIC)

Jess Allen
We had a phenomenal night thanks to Chef Jess, Christine and the team from At Your Table. Delicious food in the comfort of your own home, with none of the hassle.
Monica Wallace (VIC)

Jess Allen
Very happy with the chef and staff, food was excellent, service was non invasive. We had canapés for entree and sit down main. If anything we would've liked more quantities for the canapés and maybe some bread rolls to go with the main. Overall though everyone was happy. I would definitely recommend Jess and At Your Table.
Helena Morgan (VIC)

Jess Allen
Chef Jess arrived promptly and was genuinely interested in serving great quality food presented beautifully. Our waitress, Beth, was attentive and did a really good job of cleaning up afterwards.
Sam Gercovich (VIC)