We have Sydney's best Personal & Private Chefs
Sydneysiders have become food connoisseurs thanks to the wide variety of high quality restaurants and eateries around town, in fact if it's about food Sydney is where it's at! Gourmet food, ethnic food, clever food, innovative food, formal, informal it's all out there right on your doorstep. But what if you could bring that experience over the doorstep and into your own home? Our private chefs do exactly that.
At Your Table has a team of dedicated and professional Sydney private chefs who will deliver a unique chef at home experience of the highest quality especially for you.
Covering all areas of Sydney, our chefs are handpicked because of their background in the finest, award winning restaurants and hotels from around the world. These highly talented chefs are ready and waiting to take the stress away from all your private dining events. They are creative and passionate, keeping up with the very latest trends and techniques so you can be certain that your chosen menu will be up to the very best Sydney has to offer.
Our Sydney chefs have their own individual style menus, the choice is yours, let them do what they do best while you sit back and enjoy a world class restaurant experience in your own home or venue of choice. They will not only provide the best produce on offer and cook a sublime meal but share their food choices and techniques with you and your guests involving you all in their culinary journey.
Everything you need to know about hiring a private chef in Sydney
At your Table is your one stop shop for finding a private chef and we offer a personalised concierge service tailored to your individual requirements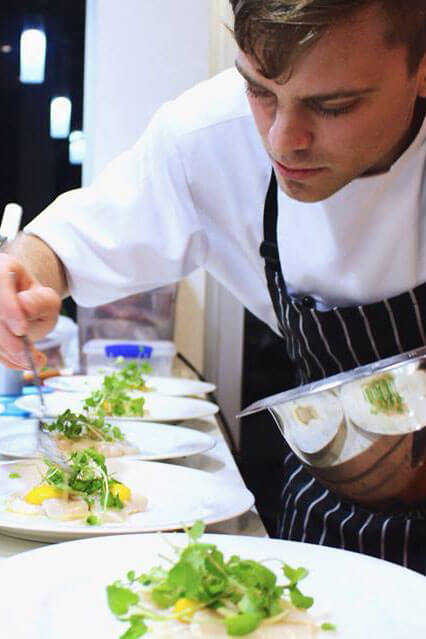 What kind of events do we service?
We cater for all types of events from small intimate dinner parties, to large gatherings, for a few hours or a few days, formal and informal and for many different occasions.
Our private chefs can work in a variety of locations across Sydney, your own home, a chosen venue, indoor and outdoor, a holiday home, a luxury yacht, a park or at the beach, just about wherever you need us to be.
How are chefs selected?
As all our chefs are experienced professionals, you can rely on the quality and high standard you would expect in a top restaurant, after all that's where we find them.
You can read up on their credentials as all our chefs have provided a bio detailing their experience and expertise, signature menus and we ask for client reviews after every booking. Have a browse and get a feel for who will deliver the kind of thing you have in mind.
Is everything cooked at the event?
Some food preparation will be done off site but your personal chef will work in your kitchen or chosen venue to deliver the final result.
Do you set the table?
You will need to provide the table settings, however if you have more guests or want us to help we can arrange that for you as well, just let us know.
For small gatherings, the chef will serve you and your guests, but for larger numbers we provide fully vetted and trained wait staff.
Who does the washing up?
Our staff will clear everything away and load your dishwasher, leaving your kitchen exactly as they found it. You really won't need to lift a finger.
If you are still undecided, then give us a call and we can work with you to make yours a very special experience.
How to Hire a Private Chef in Sydney
At Your Table Sydney offers a unique and personal concierge service that will comprehensively guide you through all your decisions as you plan the perfect event with simplicity.
Decide on the type of event you wish to host, a dinner, a party, a picnic, a weekend away, a surprise, an informal or formal occasion where that will be.
Choose the type of cuisine, maybe modern Australian, Mediterranean, Classic French, Asian, or fusion.
Deciding on one of our private chefs is the first step in creating your perfect experience. You now know what type of event and food style you require so pick the chef who sounds perfect.
Look at the sample menus to see which suits you the best, but they are not set in stone and we can fine tune them according to your requirements.
Think about the number of courses or the varieties of food you would like.
Then call us so that we can talk together to finalise everything, we are the professionals and won't let anything slip by so you can rest assured that nothing will be forgotten.
How Much Does a Private Chef Cost?
At Your Table brings incredible value to the luxury of your very own private chef, coming in at similar or often lower than restaurant prices with the benefit of a private and customised experience.
Our chefs have menus starting at $79 per head but that will vary according to the number of guests and courses you require, the more courses you decide upon will increase the price but the more guests you invite spreads the fee of the chef and can be very cost effective.
There are no hidden extras, all food, preparation, cooking, presentation, service, clearing and washing up are part of our inclusive package.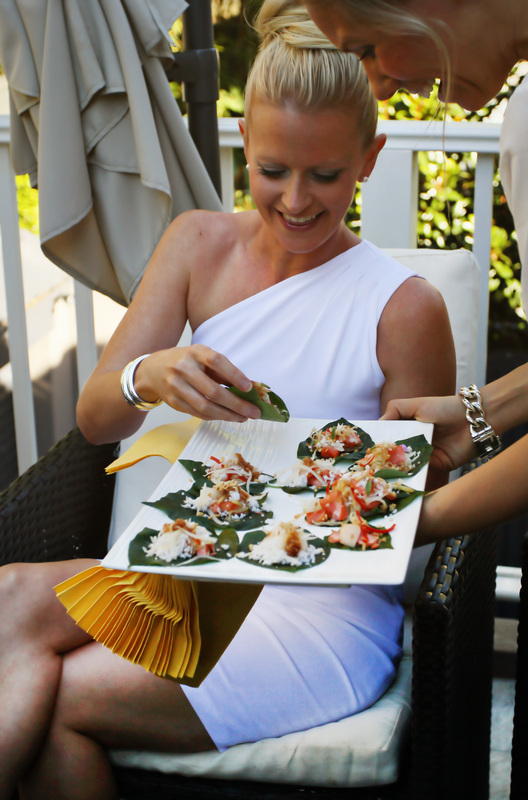 Sydney Suburbs covered by our chefs
Our private chefs can travel pretty much anywhere in Sydney, from the Northern Suburbs and North Shore down to the Southern Suburbs, and across from the Eastern Suburbs and Inner East to the Western Suburbs and the Inner West. If you live within the Metro Area, within a 25k radius of the CBD, then this is all included in our pricing.
If you live further afield, no worries, because our chefs will travel up to 50k from the city centre with just a surcharge for fuel, tolls and travelling time for the chef and waiter.
So wherever you live in Sydney, we've got you covered, our private chefs are on hand to visit you and bring the fine dining experience of the city right into your home.
---
Our Top 5 Private Chefs in Sydney
---
Choosing the perfect private chef is the key to your success. Sydney is home to some of the best, and we are proud to bring them to you. Read what they have to say and you will soon get an idea of what they have to offer. We have a large number of chefs on our books, each with something different to offer, but here's a look at our most popular to give you some idea of what you can expect.
Chef – Caleb Song
Sydney Chef – Modern Asian
Imagine the flavours of Japan, Korea and China fused with classic French cuisine! Caleb brings his wealth of experience in some of Korea's finest restaurants, his time at the Cordon Bleu cookery school and more recently working with Australia's celebrity chef Neil Perry to bring you a clever take on modern Asian food. If you like the sound of this, then Caleb's the chef for you.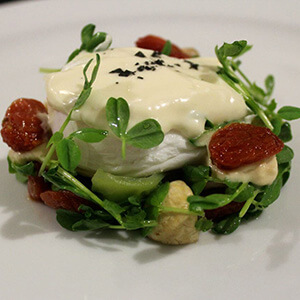 A glimpse of what he could offer you:
Fresh catch of the day with prawn, a bisque sauce of aromatic Thai flavours, chilli, tomato & lime
24 hour slow cooked beef short rib, a wombok croquette, complemented by pickle and flavoured soy sauce
Coconut panacotta, mango yuzu, sake granita with a coconut galette
Yellow bean cream creme brûlée with black sesame, black tapioca pearl
---
Food:
Service:

"Thank you Caleb for presenting amazing food…………giving the feeling like a Michelin star restaurant in our home."
Food:
Service:

"Caleb was outstanding……….. highly personable, obliging …….Everyone raved about the chef and the qalitynof the food"
Food:
Service:

"Wonderful night, I was blown away by the quality and complexity of the food"
---
Chef – Hemant Dadlani

Sydney Chef – Modern Australian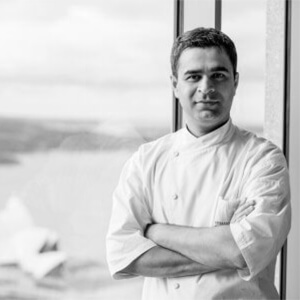 If you are intrigued by the food served in luxury hotels around the world, Hemant can unlock the secret for you! He's worked in the likes of Bermuda, Malaysia and India, amongst others, and is an award winning chef. He will bring you a well rounded global approach to his menu, his experience is nothing but the finest and we are so excited to offer you the opportunity for him to be your private chef.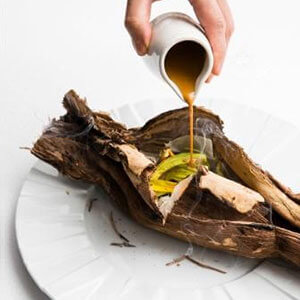 Some tempting dishes from Hermant:
Buta no Katuni – Japanese braised pork belly served with Bok Choi and sticky rice
Snapper with leek, petit lentils and crab bisque
White chocolate matcha
Flan in a jar, pistachio crumble, orange
---
Food:
Service:

"We had an amazing night with Chef Hemant, the food was amazing"
Food:
Service:

"Our chef Hemant was unbelievable, the food he cooked was excellent. We were all very impressed"
---
Chef – Bing Liu

Sydney Chef – Modern Asian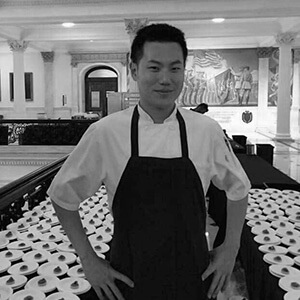 Is 'Le Cordon Bleu' in Paris your scene, coupled with the food culture of New York? Chef Bing has developed his personal style of cooking from his experience in both of these. The vibrancy of New York underpinned by the classic French cookery school is a perfect combination. In addition, he is a professionally trained Sushi Chef and could bring his experience in Sake, Sydney to your table.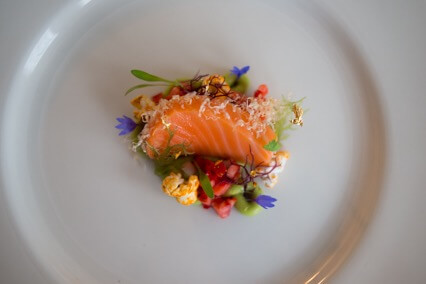 Could Chef Bing wow you with something along these lines?
Roasted snapper, parsnip purée, fennel creme fraiche
Crispy pork belly, celery root, with apple mustard chutney
Rhubarb Vacherin, white chocolate mousse, marmalade
Citrus tart, yuzu cream, mandarin sorbet
---
Food:
Service:

"Lovely food and a lovely manner."
Food:
Service:

"The tuna was amazing"
---
Chef – William Poveromo

Sydney Chef – Fusion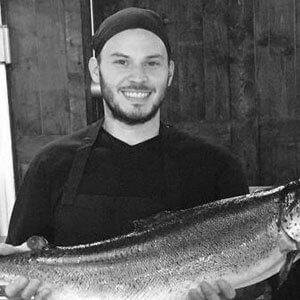 Do you love Japanese, Italian or French cuisine, or maybe a fusion of their finest flavours? Having worked with Davd Barbisan and at Sage in Canberra, and later at Nobu in London with John de Villa, William could be just the chef to delight you with something from his French, Italian or Japanese menus. His versatility will ensure you can find something to take your fancy.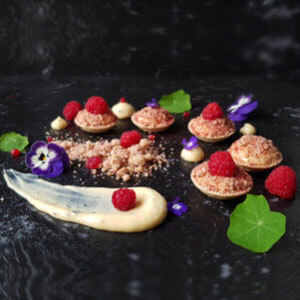 You'll be spoilt for choice with William
From Italy – Orange and rosemary baked baby lamb, mint carrot cream and soft stracciatella
From France – Veal escalope, chanterelles with charred spring onions and mushroom cream
From Japan – Grilled Chilean sea bass with green chilli, ginger dressing & cress salad
---
Food:
Service:

"William was totally amazing, everything from his presence, the magnificent food (which there was an abundance of) the service, to how they left my house was wonderful. William's food presentation was beautiful and the flavour to die for"
Food:
Service:

"The conversation, his interactions……….. the food was awesome, amazing, delicious. Thank you Chef William"
---
Chef – Julie Votano

Sydney Chef – Modern Italian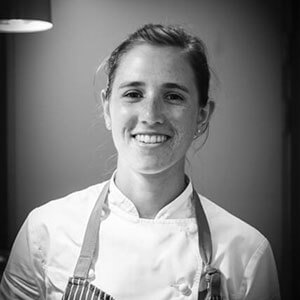 From Sydney Opera House to your house! Sydney born Julie served her apprenticeship with Guillaume at Bennelong and draws on her Italian heritage to combine the very best of both worlds. Or maybe you would like to try food from the menus served on luxury yachts as they sail to exotic destinations? Or even from the private home of an LA well, known family? Julie is the chef who has this experience and could share that with you and your guests.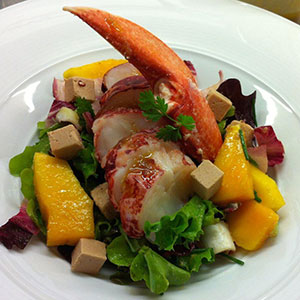 Some of Julie's tempting dishes
Hand cut pappardelle with pork ragout, tomato, basil and Parmigiana Reggiano
Roasted chicken breast with cauliflower, almond, raisins and salsa verde
Coconut panacotta, passion fruit and amaretti
Chocolate soufflé, vanilla bean creme Anglaise
---
Food:
Service:

"The chef was fantastic!"
---
Reviews for At Your Table
Thanks to our customers, At Your Table has over 639 reviews with an average rating of 4.5 out of 5!
Here's what a few of them have been saying:
'WOW, what an exceptional experience'
'Great food, well presented and a very high standard'
'The whole team At Your Table have been amazing'
'Guests are still talking about the great food and unique experience'
'The dining experience was something I'll never forget. I would recommend it to anybody'
'Totally amazing experience, the food was 5* out of this world. The service was phenomenal. Highly recommended'
'I love At Your Table, we have made several bookings so far. 10 out of 10'
The Benefits of hiring a private chef
Restaurant quality food exquisitely presented by a professional chef
All food preparation is done efficiently and effectively without you having to lift a finger.
Wow your guests with an out of this world customised menu
All you do is set the table, put on your glad rags and relax while we do all the hard work
You won't even need to serve your guests, leave that to your chef, or our wait staff
Best of all, no clearing away or washing up, we will leave your kitchen just as we found it!
You can save on costs by providing your own wine, and we won't charge corkage
You won't need babysitters, taxis or trying to find car parking
Why Choose At Your Table
We have been around the longest, in fact since 2008, and have built up an exemplary reputation
We provide a concierge service where we talk to our clients to customise their experience
We manage the whole booking from your initial enquiry to the delivery of the event on the day
We have the most chefs on our books, all of them consummate professionals with vast experience
We offer complete flexibility to tailor make each and every booking
We guarantee a comprehensive price with no hidden extras
We are covered by a multimillion dollar insurance policy for absolute peace of mind
We use a secure payment system that you can rely on
We excel in providing all round customer service
You can find out more about our guarantee and read some of customer reviews if you would like to know more.