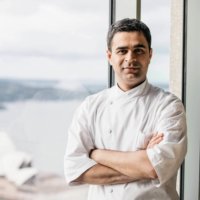 Hemant Dadlani
3 reviews
5.0
Hemant is an acclaimed award-winning chef with over 20 years of experience in Five Star Luxury hotels' & resort culinary operations across 7 countries.
With experience across Bermuda, British Virgin Islands, Malaysia, India and Australia, he has an excellent knowledge of various food cultures and some of the most exotic cuisines. Hemant, being a citizen of the world calls his food style Tropical World cuisine.
Hemant has been the Executive Chef of some of the most prominent hotels and resorts including Shangri-la Sydney, Marriott Sydney Harbour and Rosewood Little Dix Bay in BVI. He has had the pleasure of working with some of the best culinary talent and has been running successful Food & Beverage operations from Fine dining to Bistros to Modern Asian cuisine restaurants notably Altitude, Sydney; Sugar Mill, Virgin Gorda; Fisherman's Cove Malaysia
In the Caribbean islands of BVI and St. Lucia, he had the pleasure of cooking for some of the top celebrities including Sir Richard Branson, Morgan Freeman, Christian Bail, Chris Hemsworth, Paul McCartney, Amy Winehouse and the likes. Hemant was also the executive chef who catered the wedding dinner of Australian super model Kristy Hinze in BVI.
Hemant has a passion for excellence and innovation and his style of cooking is Modern Australian with Asian & Caribbean influences.

Hemant Dadlani
Chef Hemant was wonderful. Really easy going, talkative and a pleasure to have in our kitchen. His food was nice but not out of the world.
Manish Patel (NSW)

Hemant Dadlani
We booked through At Your Table for my husbands 40th birthday for 18 guests. We had an amazing night with Chef Hemant - the food was sensational, my husband is still talking about the roasted pumpkin that he cooked. The whole evening was extremely well planned from the pre-organising with the admin staff, the food, the wait staff and right up to the very end of the night where our kitchen was left spotless. We didn't have to do anything which made the night extremely enjoyable. Would definitely book again in the future and highly recommend to anyone looking for that 'something special' when celebrating a loved one's milestone in the comfort of your own home.
Jane Morgan (NSW)

Hemant Dadlani
Our chef Hemant was unbelievable, the food he cooked was excellent. We were all very impressed with our chef and our waiter. We have all talked about, when we are going to do it again.
Petina Gibbeson (NSW)