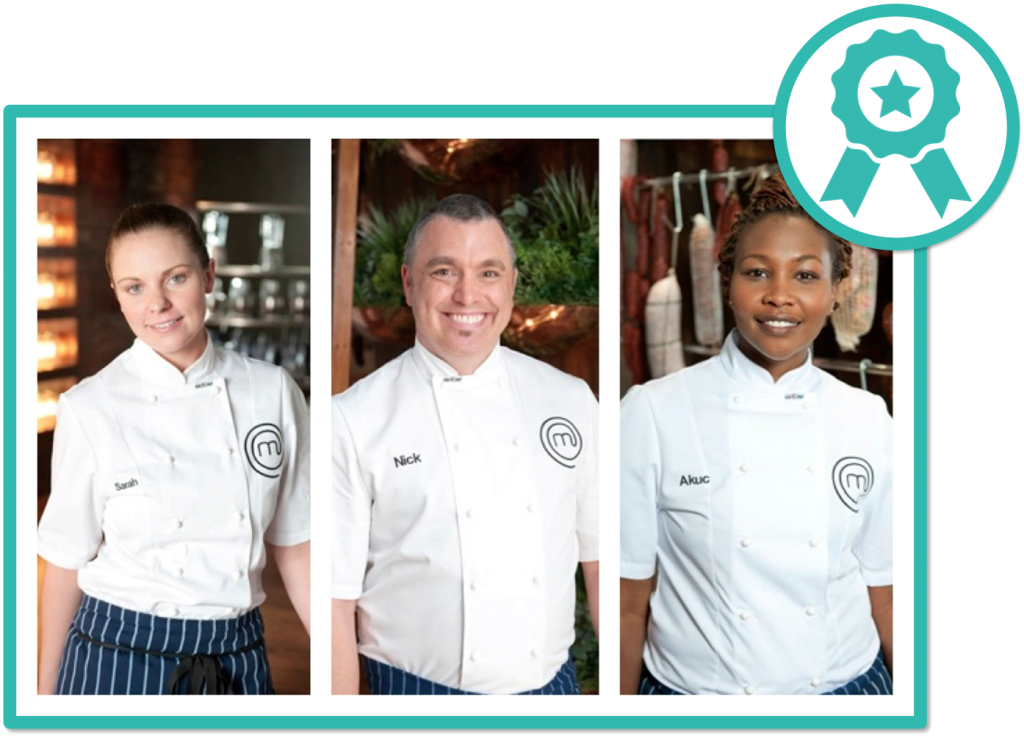 Experienced hand picked chefs
Every At Your Table chef is top of their game and has worked and trained in Michelin star restaurants or equivalent.
We vet many chef applications and select only the very best. We perform reference checks and our chefs have to pass trial bookings before joining our ranks.
Your home and property are protected
Every private event booking through At Your Table is protected by a multi-million-dollar insurance policy. So if something were to go wrong, we've got you covered.
Secure payments
All payments are made via secure, world-class platforms provided by PayPal and Commonwealth Bank. Any financial information provided is covered by their security processes as well as our privacy policy.
Exceptional Service
Whether you need help choosing a chef or menu, have a question about your booking, or anything else, we're here to help and you always have a direct line to our event staff or even our directors we promise.
Thanks to our customers At Your Table has received 486 reviews with an average rating of out of 5!
Here's what a few of our customers are saying;
We hired At Your Table for a group of guests who had hired our luxury holiday rental last weekend (Cornwallis House on the Hawkesbury River near Windsor). Their feedback to us about the dinner party was fantastic – they raved about it – so we wanted to pass in to to you. They were a group of 8 girls celebrating an upcoming wedding. They wanted a fine dining experience, something unique with outstanding fresh quality food, and not like anything that they would do themselves at home. They wanted it to be a memorable dining experience they'd talk about for ages.
They weren't disappointed! Everything lived up to, and even exceeded their expectations. They loved the menu chef Julio created. The alternative dish Julio prepared for the non seafood eater in the group was also fantastic and much appreciated. The group also enjoyed the opportunity to interact with Julio and said it was one of the highlights of the experience. The waiter was terrific – he set the table beautifully, kept their glasses constantly topped up, and was very efficient and attentive. The food was superb, and Julio and the waiter were charming, friendly, professional and took great pride in what they were doing. Everything was so beautifully presented on the night. The girls really enjoyed the pre-dinner canapes, and also appreciated not having to clean up afterwards. Getting feedback like this from our customers is so valuable, and we'd like to thank At Your Table for a job well done.
Alannah & Angelo, CORNWALLIS HOUSE. Windsor.

Chef: Julio Castellano - Food: | Service:

Alannah & Angelo Santangelo (NSW)
Great night, great food & great people. For a couples dinner one would think this may result in an awkward situation however it was the complete opposite with the chef and his assistant being very polite, positive & proffessional.

Chef: Pete Hilcke - Food: | Service:

Zarko (VIC)
Fabulous food, service and humour. I could not fault Clancy or Tommy. They were wonderful in every aspect. My guests were talking about it all weekend and my husband Neil, was very happy with the surprise.

Chef: Clancy Atkinson - Food: | Service:

Sharryn Waite (NSW)
Contact Us
Choose your chef, pick your dishes and contact us for a free quote.