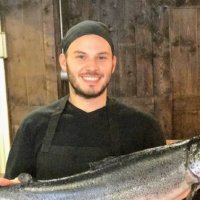 William is a professional chef who loves learning new cooking techniques every day
William moved at a young age to Australia and worked next to head chef Davide Barbisan to learn the contemporary Italian cuisine at Diamant hotel in Canberra. William then affiliates his skills with French cuisine with chef clement at Sage in Canberra.
In 2010 William decided to move to London to learn the Art of Asian fusion food and cooperate with head chef John De Villa from Nobu London. John trained William in Japanese knife skills and made him fall in love with the Japanese cuisine
At the moment William loves to cook Japanese, Italian and French and we are very excited to have him on board at At Your Table.

William Poveromo
I still can't believe that a 5 star restaurant dishes was come out from my very own kitchen. Thanks to our Chef, William who cook an exceptional dishes and not to mentioned with my last minute request, he can turned my caviars into special canapes dishes that will hard to forget. Jo-ann who help us last night, also very warm and friendly, make our dinner table looks amazing. Can't thank you enough, and will definitely go for another round when something big coming up. I would highly recommend their service, especially for family with kids like me. I believe you know how hard it is to enjoy a 5 star restaurant with kids, but it won't be a problem anymore since you'll have a master chef at your home.
Tommy Saputra (NSW)

William Poveromo
William was a pleasure to work with and the meals were exceptional. The service and positive can do attitude was something I've yet to see with an event at such short notice
Jill Murr (NSW)

William Poveromo
Absolutely amazing food and amazing experience! Would book again
Denise Owen (NSW)

William Poveromo
Excellent and creative chef
Kevin Chin (NSW)

William Poveromo
William was excellent- beautiful food that was delicious.
Michael Campbell (NSW)