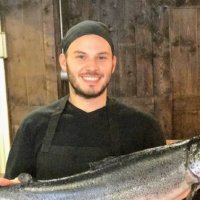 William is a professional chef who loves learning new cooking techniques every day
William moved at a young age to Australia and worked next to head chef Davide Barbisan to learn the contemporary Italian cuisine at Diamant hotel in Canberra. William then affiliates his skills with French cuisine with chef clement at Sage in Canberra.
In 2010 William decided to move to London to learn the Art of Asian fusion food and cooperate with head chef John De Villa from Nobu London. John trained William in Japanese knife skills and made him fall in love with the Japanese cuisine
At the moment William loves to cook Japanese, Italian and French and we are very excited to have him on board at At Your Table.

William Poveromo
William was outstanding. The food was delicious! He was lots of fun and made it such a special occasion. I can recommend more highly. Will definitely get him again
Edwina Ekins (NSW)

William Poveromo
Chef William was impressive from the start. He easily accommodated our request to remove the dessert and add side dishes. Chef William then suggested two fantastic canape additions to round off a tremendous menu. The execution of the menu was first class. The wagyu steak was a melt-in-your-mouth kind of delight. Can't recommend him highly enough.
Jonathan Cawte (NSW)

William Poveromo
Chef William's food was one culinary delight after another and so beautifully presented. Chef William and waitress Kat were so relaxed and personable. It was a pleasure to have them both at our special occasion. It was the cherry on top to have the kitchen spotless again before they left. What a treat.
Charlotte Jameson (NSW)

William Poveromo
William created a delicious meal for us which was beautifully presented, allowing me to enjoy the evening with our guests. Having William and Ana, our waitress, to cook everything and clean up as well was just a godsend.
GEORGIANA MCCULLAGH (NSW)

William Poveromo
We had a fantastic night! Many thanks to the talented Chef William & attentive waitress Ana. William's Japanese dishes were beautifully presented & the flavours were wonderful. We highly recommend.
Jacqui (NSW)