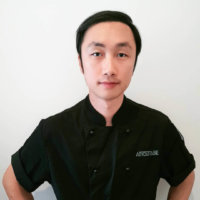 Caleb Song
58 reviews
5.0
Born on Jeju Island in Korea, Caleb's first experience with cooking was at the Dongguk University restaurant in Kyongju, where he worked as a kitchen hand. He then moved to Seoul to work in local restaurants and continue to learn about cooking.
Hungry to learn more and gain experience in world class kitchens, Caleb moved to Australia to study commercial cookery at Le Cordon Bleu. He then went on to work at Justin North's Bécasse and finished his "IP" at Neil Perry's Spice Temple. Caleb then moved to Moss Vale to work with Chef Twan Wijers at Katers Restaurant for 3 years, and then came back to Sydney to work for Chef Conor Plunkett at Stix catering.
Caleb's cooking is influenced by Asian cuisine, especially from Japan, China, and Korea. Caleb will happily serve you unique and tasty Asian flavors with a twist of French technique.

Caleb Song
Caleb provided delicious and aesthetically presented meals, with clear explanations. Highly recommend!
Greg (NSW)

Caleb Song
The whole event was well managed and co-ordinated. From Initial contact with Sonja, to Ellie in accounts and Caleb the Chef. My Perfect Party created a beautiful setting and provided wait staff that were efficient, relaxed and friendly. The food was superb and Caleb showed his passion and love for the food he cooked by his descriptions of each course. The whole event went without a hitch and was a relaxed and happy night - enjoyed by all who attended.
Vikki Slocombe (NSW)

Caleb Song
Everything was on point ... the timing, the service, the food. No negatives, only positives
Rob Crabtree (NSW)

Caleb Song
We have had Caleb's experience a few times before and he continues to delight us - his food, his manner and professionalism are outstanding. Thank you for making our celebration so special.
Justine (NSW)

Caleb Song
Great food excellent service. Such a nice man
Michael Chapman (NSW)