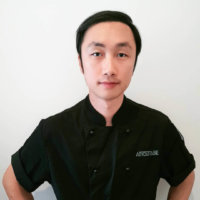 Caleb Song
47 reviews
5.0
Born on Jeju Island in Korea, Caleb's first experience with cooking was at the Dongguk University restaurant in Kyongju, where he worked as a kitchen hand. He then moved to Seoul to work in local restaurants and continue to learn about cooking.
Hungry to learn more and gain experience in world class kitchens, Caleb moved to Australia to study commercial cookery at Le Cordon Bleu. He then went on to work at Justin North's Bécasse and finished his "IP" at Neil Perry's Spice Temple. Caleb then moved to Moss Vale to work with Chef Twan Wijers at Katers Restaurant for 3 years, and then came back to Sydney to work for Chef Conor Plunkett at Stix catering.
Caleb's cooking is influenced by Asian cuisine, especially from Japan, China, and Korea. Caleb will happily serve you unique and tasty Asian flavors with a twist of French technique.

Caleb Song
Caleb was fantastic! He was very professional, prompt, polite and the food was to die for. I'd highly recommend him. He made a special occasion even more special.
Tahli Fitzpatrick (NSW)

Caleb Song
Due to uncertainty with COVID we decided to do this dinner at home. We ended up being impacted by people not being able to travel and despite not being able to make the changes we wanted the team was always very professional to deal with. We ended up having an amazing evening and the food was absolutely superb (we have menu 1 from the 5 course selection). Caleb also did a great job explaining all the dishes and the kitchen was left perfectly clean.
Tessa Morrison (NSW)

Caleb Song
Thank you Caleb , for presenting amazing food and catering for all. Giving a feeling to the dinner like it was mitchellin star restaurant in our home. Our waiter was amazing . You guys left the kitchen clean and will look forward to seeing you again.
Annabelle Bennett (NSW)

Caleb Song
excellent taste and presentation
michael chapman (NSW)

Caleb Song
Caleb was well mannered and prompt. He remained calm and collected, serving up a wonderful 3 course meal as requested.
justin fish (NSW)