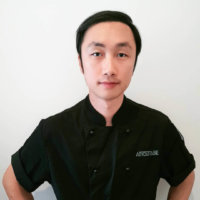 Caleb Song
63 reviews
5.0
Born on Jeju Island in Korea, Caleb's first experience with cooking was at the Dongguk University restaurant in Kyongju, where he worked as a kitchen hand. He then moved to Seoul to work in local restaurants and continue to learn about cooking.
Hungry to learn more and gain experience in world class kitchens, Caleb moved to Australia to study commercial cookery at Le Cordon Bleu. He then went on to work at Justin North's Bécasse and finished his "IP" at Neil Perry's Spice Temple. Caleb then moved to Moss Vale to work with Chef Twan Wijers at Katers Restaurant for 3 years, and then came back to Sydney to work for Chef Conor Plunkett at Stix catering.
Caleb's cooking is influenced by Asian cuisine, especially from Japan, China, and Korea. Caleb will happily serve you unique and tasty Asian flavors with a twist of French technique.

Caleb Song
Caleb prepared an outstanding meal for out group including making changes for allergies and choices. Everyone who attended raved about how good the meal was and we were extremely happy with the way everything tasted and was presented. Ourr waiter Renata, who was brilliant as well, and Caleb made a great team and we could not be happier with how the evening went.
Allan Foster (NSW)

Caleb Song
Caleb the chef was outstanding. All courses were delicious. The service was impeccable and the kitchen was left immaculate. We thoroughly enjoyed the experience and would do it again for a special occasion
Tracey Macdonald (NSW)

Caleb Song
I can't say enough good things about the experience we had with At your Table. The booking process was easy; every person we dealt with was excellent; Natalia who served bar/food on the day…..brilliant; and Caleb…..oh my goodness…..the food was incredible. Every dish was a work of art; every taste was a sensation; every serving was so well thought through and executed to perfection. I can't thank you enough for making my mums' day (80th b'day) incredibly special and also making it so special for everyone there. Loved it and will be back. :)
Elana Kohn (NSW)

Caleb Song
What an amazing Chef Caleb is. Oh my gosh, it was incredible experience have someone of Caleb's talent in our kitchen, creating a 3-course meal for 12 of us. Each dish was so well crafted - the perfect balance of flavour, freshness, texture, aromatic, and colour. It was a no fuss, exceptional evening from start to finish. Thank you, Caleb.
Sue Woodall (NSW)

Caleb Song
great food really good waiters pity about the mixup re cutlery but will be resolved
michael chapman (NSW)