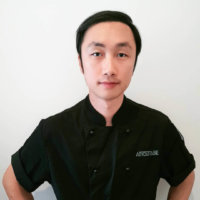 Caleb Song
50 reviews
5.0
Born on Jeju Island in Korea, Caleb's first experience with cooking was at the Dongguk University restaurant in Kyongju, where he worked as a kitchen hand. He then moved to Seoul to work in local restaurants and continue to learn about cooking.
Hungry to learn more and gain experience in world class kitchens, Caleb moved to Australia to study commercial cookery at Le Cordon Bleu. He then went on to work at Justin North's Bécasse and finished his "IP" at Neil Perry's Spice Temple. Caleb then moved to Moss Vale to work with Chef Twan Wijers at Katers Restaurant for 3 years, and then came back to Sydney to work for Chef Conor Plunkett at Stix catering.
Caleb's cooking is influenced by Asian cuisine, especially from Japan, China, and Korea. Caleb will happily serve you unique and tasty Asian flavors with a twist of French technique.

Caleb Song
Great food excellent service. Such a nice man
Michael Chapman (NSW)

Caleb Song
Just want to say what a huge success the evening was thanks to your team. My friends were squealing with delight at every one of the seven dishes prepared by Chef Caleb and his assistant Song at my birthday dinner. Wonderful menu, beautifully presented and all we had to do was sit there and be spoiled all evening. Special mention to the wait-staff Pauline & Gary who were absolutely amazing keeping the food coming and the wine flowing - so friendly and so professional…nothing was any trouble for them. Thanks for making my 60th a brilliant experience.
David Fingret (NSW)

Caleb Song
Caleb, his sous chef and our two waitstaff, Kat and Nat were wonderful. Caleb's food was delicious. Kat and Nat especially were very attentive and happy to help in anyway they could. Highly recommend for your next event!
Talia Waelsch (NSW)

Caleb Song
We did a surprise 30th for my sister birthday and we had Caleb Song as our chef! Really amazing service and the food was incredible!! Also our wait staff on the night was extremely amazing! I would really recommend!
Alice Lai (NSW)

Caleb Song
Caleb was fantastic! He was very professional, prompt, polite and the food was to die for. I'd highly recommend him. He made a special occasion even more special.
Tahli Fitzpatrick (NSW)