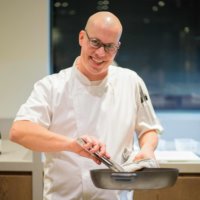 Thomas Damm
16 reviews
5.0
Born and bred in Germany, chef Thomas always had the urge to move around. Professionally it took him some detours before becoming a chef. After being a mechanic, then studying economics and engineering, Thomas finally found out what his real passion is, food. He has the fortune to hone his craft in Germany's Michelin starred kitchens. A lot of hard work and 4.5 years later, he needed a break and guess where that led him to? Australia is the answer.
Learning the language was his first task. After a lot of hard work and traveling the country, he fell in love with Melbourne. That was in 2010 and he is still here today. Working in the Melbourne Club, also Stokehouse, spending the longest time in one kitchen with 3.5 years. Running the kitchens in various cafes like Las Chicas showed him a wide variety of Australian foods. But the love of fine dining brought him to private dining.
For Thomas, private dining is the best way to showcase his craft while you enjoy a night with family and friends together! And that is what At Your Table provides for you, a dining experience to remember.

Thomas Damm
Excellent experience for a dinner party for 8 people. The chef was fantastic, great food and explanation of ingredients. The waiter was also excellent, very attentive and efficient. Highly recommend.
Maria Armstrong (VIC)

Thomas Damm
I just wanted to send a big THANK YOU for all your hard work on Saturday night. Given we changed the arrangements on you at the last minute – bringing the dining inside, rather than the preplanned outside – you dealt with all of that with professionalism and aplomb. It helped to make the night run very smoothly. In fact, it was a really lovely night and in no small part because of you, your staff and the dishes you prepared and served for us. I had many compliments regarding the food and attention to detail from you and your staff. They were very impressed, as was I! I couldn't fault my meal; it was just stunning. As well as those having the main menu, the two people who had the vegetarian dishes said their meals were just superb as well. Thank you too to your staff (Gavin, Paul and Lucy) for all the hard work during the night to make it run so smoothly. I didn't have a concern about anything all night, which is a testament to the professionalism of you and your staff. Thanks again for making such an important night so special for us.
Susanne Kean (VIC)

Thomas Damm
Excellent!! Loved it all!!
Sandra (VIC)

Thomas Damm
Food was delicious and service great.
Deb Cook (VIC)

Thomas Damm
Thomas was very friendly and accommodating and most of all an excellent chef. The food was delicious.
Satish (VIC)