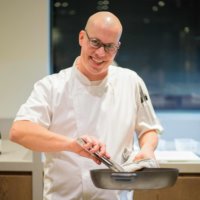 Thomas Damm
14 reviews
5.0
Born and bred in Germany, chef Thomas always had the urge to move around. Professionally it took him some detours before becoming a chef. After being a mechanic, then studying economics and engineering, Thomas finally found out what his real passion is, food. He has the fortune to hone his craft in Germany's Michelin starred kitchens. A lot of hard work and 4.5 years later, he needed a break and guess where that led him to? Australia is the answer.
Learning the language was his first task. After a lot of hard work and traveling the country, he fell in love with Melbourne. That was in 2010 and he is still here today. Working in the Melbourne Club, also Stokehouse, spending the longest time in one kitchen with 3.5 years. Running the kitchens in various cafes like Las Chicas showed him a wide variety of Australian foods. But the love of fine dining brought him to private dining.
For Thomas, private dining is the best way to showcase his craft while you enjoy a night with family and friends together! And that is what At Your Table provides for you, a dining experience to remember.

Thomas Damm
Food & service amazing, will definitely be using Thomas's service again, would highly recommend, enabled me to enjoy my guests company without being stuck in the kitchen and even better all the clean up was taken care of
Amanda Doulgeridis (VIC)

Thomas Damm
We selected Thomas for a special dinner with friends based on his great reviews and he exceeded all expectations. We had a 3 course sharing menu and the food was absolutely amazing. At the end of the evening he asked which dish we liked best, I couldn't decide because I enjoyed them all so much. Not only was the meal outstanding, Thomas was also professional, friendly, attentive but not intrusive, and accommodating (adjusting the menu to cater for our vegetarians). The kitchen was spotless when he left. We highly recommend Thomas.
Sue D (VIC)

Thomas Damm
We had a wonderful night with Thomas the chef and Lucy our waitress. The food was amazing, each course a delight. Thomas was very interactive and his passion shone through to his food. Thank you for making this evening a memorable feast.
Anita Wright (VIC)

Thomas Damm
Thomas Damm is a true professional, masterful chef and great company. His 5 course tasting menu was perfect. We did a chef's table style dinner where Thomas walked us through the different dishes and his inspiration for them. He even left the kitchen cleaner than he found it at the end of the night. Highly recommended.
Tim (VIC)

Thomas Damm
Thomas was well presented and professional in appearance and manner. He understood our requirements and worked with us to create a meal our guests would enjoy. He explained each dish he was presenting and was available to answer any questions. He also cleaned up after himself and nothing seemed too much trouble. He knew when to interact and when to retreat which we appreciated. We had a thoroughly enjoyable night and would highly recommend his services to others.
Darryl Morris (VIC)