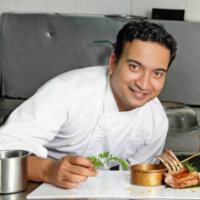 Lynn Clemente is a multi-talented chef, having over 17 years of experience across resorts, luxury hotels and cruise liners.
His gift for creating great food was ascertained right from a young age.  He was agold medal recipient in the Nestle Star Young Chef's competition, and had the opportunity to train under renowned Italian Chef Antonio Carluccio. A true researcher by heart, he loves experimenting with techniques both old and new.
Lynn has garnered culinary expertise in European, Asian, and modern culinary techniques.  In Australia, Lynn had successful culinary stints at Hamilton Island, Shangri-la Sydney and TFE Hotels. During his tenure he successfully managed to curate culinary experiences for small private gatherings to corporate luncheons. He had the pleasure of cooking for top celebrities of the likes of Julia Roberts, Matt Damon, Marcia Barrett, Lionel Ritchie, Shane Warne to name a few.
The secret to his cooking is inspired by simplicity and pure unadulterated taste, respect for basic products, and completely uncompromising towards freshness and quality of ingredients.