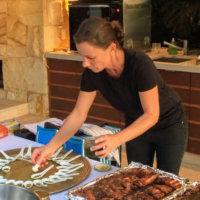 Sabine has catered both private and corporate events in Sydney for over 20 years.
Recent corporate clientele includes Foxtel, Fox Sports, Precision Group, Autism Spectrum, Amadeus IT Pacific and Archer Capital. Private functions include Karl Stefanovic's commitment ceremony, media meeting with Kevin Rudd, daily meals catered in exclusive Palm Beach holiday rentals and annual Christmas parties for SFCelebrity Management.
Before settling in Sydney Sabine worked as a personal chef to families living in Cannes, Marbella, London and Zurich. She also worked as personal chef to Janet Jackson on her Velvet Rope Tour.
Having worked in exclusive homes with top-end clients Sabine is familiar with the need for an exceptional level of service, discretion and a can-do attitude.
She has embraced both the fresh produce and culinary diversity Australia has to offer.