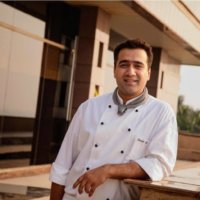 Chef Sahil Sabhlok is known for his down to earth attitude and approach to food.
With over seventeen years' experience in some of the luxury 5-star hotels across India and Australia, he is known for creating unique and bespoke dining experiences.
Sahil has since then established and managed, many fine-dining restaurants, bistros and café across India before moving to Australia. Winner of the Grand Indian Culinary Challenge in the category of Garde Manger / Appetizers held in Mumbai, has spent much of his career working side-by-side with accomplished chefs; like Chef Michel Nischan at his first organic produce run restaurant in India and Chef Lorenzo Berni, who ventured out of London to open his family run Italian restaurant in India.
Currently working with Radisson Blue Hotel Sydney, he has maintained his love for culinary creativity. Given plenty of room to experiment across an all-day dining menu, he enjoys the art of combining flavours and textures backed by years of honing his passion and talent.
His menu is centred on seasonal and local ingredients. Chef Sahil's cooking style is innovative and simple and explores the modern variation of Indian and European cuisine. However, Modern Australian dishes are well within his repertoire. Chef Sahil Sabhlok's food is strongly reliant on seasonal produce and high-quality products.
As a Chef, he loves the passion, the adrenaline and the feeling you wear when diners leave happy!