Often when we think of cocktails we imagine icy cold Mojitos or refreshing Margaritas by the pool. However, with the shorter days and crisp cold nights you cannot beat a soothing wintery sipper to warm the cockles.
Spring isn't far away but the evenings still have a chill to them. Although we are all excited for the change of season and the vivacious culinary treats that it will bring, there are still a few cold nights by the fire to be enjoyed.
Here are 5 of our favourite cocktails to serve this time of year; think winter warmers with a little bit of spring time hope!
1. Bourbon Old Fashioned
For those who enjoy a stiff drink, but feel like something a touch softer
60 ml Woodford Reserve Bourbon (or something similar)
1 raw sugar cube
2 dashes Angostura Bitters
a few large ice cubes
Place the sugar cube in a tumbler and soak in bitters.
Add the Bourbon and stir until the sugar is dissolved.
Pour over ice into a separate tumbler and garnish was a twist of orange peel.
2. Brandy Alexander
An indulgent dessert cocktail perfect for an after-dinner digestif.
30 ml Hennessy VS Cognac
30 ml Cacao chocolate liqueur
30 ml Double cream
30 ml milk
Shake all ingredients in a cocktail shaker with ice.
Strain into a martini glass and garnish with a little grated nutmeg or cinnamon.
3. Spiced Mulled Wine
A classic soothing wine based cocktail with many options for customisation.
10 cloves
1 whole star anise
a few slices of fresh ginger
2 cinnamon sticks
50 g brown sugar 1 roughly grated nutmeg
450 ml water
roughly grated rind of 1 orange
1 apple, roughly chopped (skin on)
750 ml Merlot
Bring the water, sugar and dry spices up to a simmer to form a syrup.
Add the wine, orange and apple, warm through but don't boil.
Leave to infuse for between 1-2 hours.
Many variations can be used, try your own spices or additions to personalise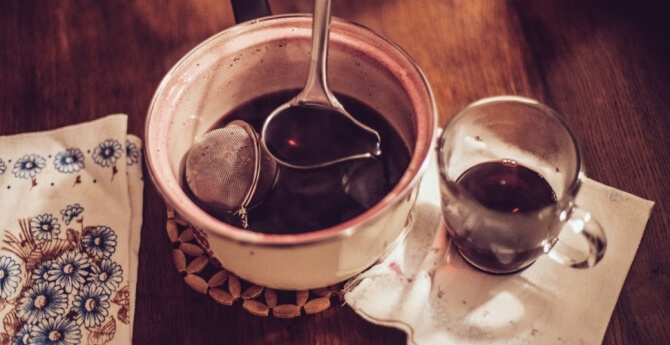 Photo credit – Splitshire.com
4. Ginger pear martini
A warming and refreshing martini for those late fall evenings.
Several ice cubes
60 ml Absolut Pear Vodka
15 ml Domaine De Canton French Ginger Liqueur
25 ml Sugar Syrup
25 ml lemon juice
Lemon twist for garnish
Mix all ingredients in a cocktail shaker filled with ice.
Shake vigorously to mix.
Strain into martini glass and add a lemon twist garnish.
5. Spicy Pineapple Mint Julep
A warming, fruity take on a southern United States classic
Crushed Ice
150 g small diced fresh pineapple (nice and ripe)
40 ml bourbon
30 ml jalapeno-infused simple syrup
(Bring to a simmer, then cool; 100ml water, 100g sugar, 1 sliced jalapeño)
5 large mint leaves (extras for garnish)
Fill a glass with crushed ice and place in the freezer until needed.
In a large cocktail shaker muddle the pineapple and mint, releasing all the natural juices.
Add the Jalapeño syrup and bourbon, shake vigorously.
Strain the cocktail over the crushed ice and garnish with fresh mint leaves and sliced pineapple.
6. Hankey Panky
The sultry cocktail created at the Savoy in London by Ada Coleman, perhaps the most famed female bartender of all time.
50 ml Tanqueray gin
25 ml Sweet vermouth
5 ml Fernet Branca
Stir with ice and strain into a cocktail glass.
Garnish with a twist of orange peel.
There you have it, 6 delicious cocktails to enjoy by the fire or share with friends.
Pair these with some cocktail friendly snacks and you have the perfect reason to spend a warm cosy night at home.
Do you have some of your own favourite concoctions for this time of year?
We would love to hear your ideas,
Chris Wright
16/06/2019