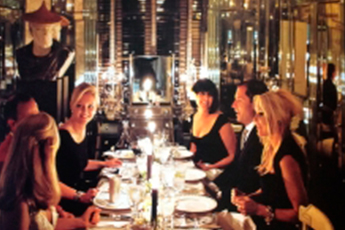 Everyone knows that good planning makes for an easier and more successful party. Check out this week-by-week list of party planning and score some great planning ideas for your next event.
Three Weeks Before
Make your Invite List- When making your list consider inviting 20 more people that you can fit into your space as only 70% of invited guests usually RSVP "yes."
Choose a Theme- Not all parties need to have a theme, so do this only if you think it's appropriate and you are interested in creating a themed party. Even if you don't go with a full-blown theme, consider using this time to choose the overall "feel" of your party, like what type of food you will serve, whether the party will be indoors or out, casual or more formal, ect.
Send the invitations- It's acceptable to send paper, email, or even phone invites. Whichever fits your event and your style works best.
Plan the Menu- If you are going with a theme, use that as a jumping point for the foods you choose. If not, consider the general feel you want to create for your party and choose foods from there. If you are hiring a caterer, go over choices with them now. If you are cooking assemble the recipes, make lists of anything that can be made a head and when, and create a shopping list. Also place any food orders you may need at this point, such as cakes or bakery items.
Gather Help- This can entail hiring a caterer, a bartender, servers, or simply someone to help with post-party clean up.
Two Weeks Before
Sparkle and Shine- Clean any glassware, service platters, or silverware you will be using for the party. Choose, clean and iron linens as well.
Make a Playlist- Music plays a huge role in setting a great atmosphere for a party. Choose upbeat tunes that will keep the flow going throughout the entirety of the party.
Shop and Pre-cook- If you are cooking, check your list of things that can make a head, shop for ingredients, and prepare those items.
One Week Before
Clean up- Give your place a good deep cleaning this week. With the big clean out of the way, as the party day approaches you can simply give it a quick spot- clean and pick-up.
Set the Stage- Arrange furniture to create a good flow for your guests. Designate tables for coffee and dessert, and an area for the bar. Remove any valuables you want to keep out of party goers reach, and figure out lighting by changing to low-watt bulbs and using candles around your space.
Take Inventory- Take a final inventory of glasses and service ware.
Stock the Bar- Plan to buy 3 bottles of wine for every 4th person, as well as enough spirits and mixers to make 3-4 cocktails for a 2-3 hour cocktail party.
Three Days Before
Check-In- If you are having a large party, it's good to check-in with your neighbors and let them know to expect extra cars around your place and more action than usual.
Set up Clean-Up Stations- Set up a box of salt, wine stain remover, club soda, and a few rags in a bin or basket and store in a convenient place in case of spills.
Choose a Place for Coats- Depending on the season, you'll want to designate an area for coats. Even in warmer weather, designate a place for bags and things that guests may need to set aside out of the way while at the party.
Finish Shopping- If you are cooking, finish your grocery shopping today.
One Day Before
Set the Table- Setting your table the day or night before the party is a huge time saver. If you are having a buffet, set this area up.
Buy and arrange flowers- Flowers really bring that extra something to a party. Whether your event is formal or casual, buy and arrange flowers to make your space that much more special.
Cook as Much as You can- If you have any items that can be made ahead, make those. Otherwise, prep everything you can by dicing, chopping, or plating the night before.
Spruce up you Place- Give your place a quick once over and touch up an areas that have accumulated clutter or dust.
Day of the Party
Finish Cooking- If you are cooking finish up anything that couldn't be made ahead of time. Hopefully this step should not take very long with all of your pre-prepping!
Arrange Seating- Place chairs around your mingling space, cocktail area, and dining area.
Display Food- An hour or two before guests arrive, set out any food that doesn't need to be refrigerated. Keep it tightly wrapped to keep it fresh and unwrap just as the first guest arrives.
Party Time- Great your guests with a smile and remember the most important thing-relax and have fun! The best way to ensure guests enjoy your party is to be a relaxed host.