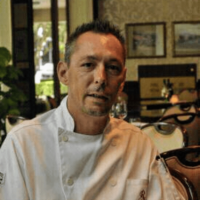 Frederick Marechal
7 reviews
5.0
Chef Frederick has trained in French Classic venues such as Belgium's Romeyer and the 3-Michelin star La Pergola.
Rising quickly, he became Head Chef at the 3-Michelin star Le Bel Ombra in 1996 before taking the reins at the 5-Michelin star La Place as the Head Chef a couple of years later.
In 2000, Frederick had the honour of being the Personal Chef to the French Consul-General in Monte Carlo where he served with distinction.
Looking for a new opportunity, he moved to Australia in 2002, working in New South Wales as Head Chef at La Guillotine in Sydney and Berowra Water's Inn. Frederick struck out on his own in Batemans Bay, operating the highly successful Chef's Cap Café for five years before moving north to Brisbane. Frederick's flair and style have also boosted the reputation of the Walnut Restaurant to exceptional heights.
After less than one year at Royal on the Park Hotel Brisbane, Frederick led his team to a Silver Medal in 2012 and a Gold Medal in 2014 at the Fonterra Restaurant of Champions organised by Fine Foods Australia.

Frederick Marechal
Amazing service and food, the experience far exceeded my expectations. The chef was freindly and prompt and the kitchen was left cleaner than when they arrived!
Eleanor Yeomans (QLD)

Frederick Marechal
Chef Frederick was such a wonderful addition to our event. He has a great personality, creates delicious food and left our home clean and tidy. We would love to have Chef Frederick back again.
Linda McIntosh (QLD)

Frederick Marechal
Frederick was excellent! The food was amazing, and he was quite willing and interested in discussing his experience and techniques. Couldn't be improved!
Robert Patrick (QLD)

Frederick Marechal
Our dinner was a perfect way to celebrate 2 x 60th birthdays. Frederick cooked and served a beautiful dinner which four of us thoroughly enjoyed. It was perfectly presented and tasted even better. Thank you for a wonderful evening.
Elizabeth Needham (QLD)

Frederick Marechal
Wow, what a night! Chef Frederick was absolutely amazing. Really pleasant to have in our home and the food was exceptional. Can't wait to do it again.
Hayley Bowen (QLD)