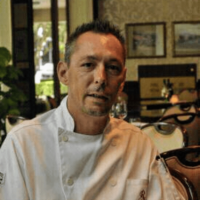 Frederick Marechal
3 reviews
5.0
Chef Frederick has trained in French Classic venues such as Belgium's Romeyer and the 3-Michelin star La Pergola.
Rising quickly, he became Head Chef at the 3-Michelin star Le Bel Ombra in 1996 before taking the reins at the 5-Michelin star La Place as the Head Chef a couple of years later.
In 2000, Frederick had the honour of being the Personal Chef to the French Consul-General in Monte Carlo where he served with distinction.
Looking for a new opportunity, he moved to Australia in 2002, working in New South Wales as Head Chef at La Guillotine in Sydney and Berowra Water's Inn. Frederick struck out on his own in Batemans Bay, operating the highly successful Chef's Cap Café for five years before moving north to Brisbane. Frederick's flair and style have also boosted the reputation of the Walnut Restaurant to exceptional heights.
After less than one year at Royal on the Park Hotel Brisbane, Frederick led his team to a Silver Medal in 2012 and a Gold Medal in 2014 at the Fonterra Restaurant of Champions organised by Fine Foods Australia.

Frederick Marechal
Wow, what a night! Chef Frederick was absolutely amazing. Really pleasant to have in our home and the food was exceptional. Can't wait to do it again.
Hayley Bowen (QLD)

Frederick Marechal
The food couldn't be faulted.
Jacquelyn (QLD)

Frederick Marechal
We had a chef and a waiter, Frederick and Rudy. However, Rudy was not just any waiter, he was definitely a fully fledged maitre d' and ran the evening with such finesse and smoothness that we felt we were in a 5 star restaurant. Frederick created such fine food it was absolute heaven to indulge and was 5 star as well! My husband was exceedingly grateful that Frederick was aware that he was in somebody's home and not on TV! They arrived on time, went about their business in a very professional manner, played the evening by ear and gave us the ultimate fine dining experience! The two of them also new each other's nuances and worked together like a well oiled machine. Both deserve such accolades and we received nothing but compliments about the experience. We'll done guys
Christine Matthews (QLD)