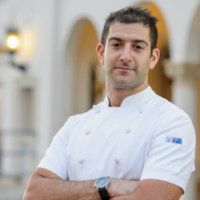 Mark Kay
9 reviews
5.0
Born and raised in Sydney in a Jewish household, this allowed Mark great exposure to a vast array of food at a young age. Amongst them were smoked tongue and traditional chicken liver which are still favourites. But that is not all! Mark's dad had quite the appetite. BBQ duck and smoked eel can still be recalled when he was 7.
Early cooking at home for fun was scrambled eggs, soft and creamy  with margarine but he got adventurous around the age of 13 when curiosity got the better of him and he was using the Woman's Day publication to cook roast duck with orange sauce as well as prawn bisque; he still recalls the build up of prawn heads in the freezer and setting the stove alight in excitement with brandy!!
Mark started his culinary career at Bistro Moncur Woollahra under the much-respected Chef Damien Pignolet. There Classic French technique was continually refined. This was followed by the Park Hyatt Sydney.
London was calling in 2003 and he was involved in the opening of the acclaimed St John Bread and Wine, this was followed by other highly notable Michelin Starred establishments for the next 8 years.
Whilst working as Head Chef at Paramount restaurant in London, he received an offer to be Consultant Chef de Cuisine at Grand Hotel Europe St Petersburg in Russia. Here he had the privilege to cook for Consulates and Heads of State for L' Europe Dining Room.
Before leaving the Northern Hemisphere, Mark was keen to gain exposure to North and South American Cuisine and as such Mark worked as Senior Sous Chef for the prestigious Chiltern Firehouse under Nuno Mendes.
Mark returned to Sydney in 2015 with his family. Working at the notable  Four in Hand before its sad closure and has since held positions of both Head Chef and Executive Chef positions most recently Executive Sous Chef of Felix restaurant
Marks food is described as Modern European with influences notably from France, Spain, Italy, and Great Britain.  European food classically cooked encompassing bold and robust flavours, executed with a deft modern touch.

Mark Kay
Mark was exceptional, everyone raved about how good the food was as well as the service. All of the wait-staff were lovely and really professional and efficient. Abigail is outstanding- what a lovely person she is. Sonja and Ellie have also been wonderful, I am so grateful for everything you did to make my 60th birthday function unforgettable.
Karla Davies (NSW)

Mark Kay
A wonderful experience and absolutely delicious food. A special surprise for a special person.
Carolyn MORPHETT (NSW)

Mark Kay
It was wonderful to have such a talented chef cook for 10 guests in our home. Mark Kay served an incredible dinner, the menu offered variety with a combination of succulent meats, beautiful risotto and fabulous dessert. Five mouth-watering courses from a modern European menu. The evening was seemless, and all courses were served with a professional yet warm manner. I would highly recommend Mark to take the pressure off entertaining in your own home, and allowing a very enjoyable evening.
. . (NSW)

Mark Kay
The wine tasting was very good. Bella was excellent. Chef Mark and staff were wonderful and the food and service fantastic.
Sandra healey (NSW)

Mark Kay
I wanted to say thank you so much for your contribution to a very special night. Food was divine and the evening memorable. I will be recommending you to everyone! Thanks again.
Karen Beatty (NSW)