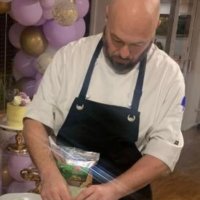 Andrea Rossi
3 reviews
5.0
Andrea Rossi is an Italian-born chef from the town of Udine in North Italy. He has worked all around the world. He spent a long time in the 1 Michelin Star restaurant in Japan called Enoteca Pinchiorri. He has been cooking for 15 years in Sydney in Italian restaurants like Apertivo and Contact Bar and Kitchen. Andrea would love to show you his Modern Italian style menu.

Andrea Rossi
Andrea was amazing!!! His food was out of this world delicious!! The service was fabulous! Even the dishes were done! Thank you Andrea for an exceptional experience.
Amanda Chittenden (QLD)

Andrea Rossi
Andrea created 5 absolutely delicious courses that made for a very memorable experience. Every dish packed with flavour and passion. A very special and personalised service that was thoroughly enjoyed by all 22 guests. Ellie and the team at At Your Table so easy to work with. Highly recommended - Andrea you are brilliant!
Lida (NSW)

Andrea Rossi
Andrea was exceptional with his menu & created very delicious canapes for us. 5 stars from all of us. He exceeded our expectations! Our waitress was amazing, attentive and highly professional- as well as being warm, friendly & efficient. We couldn't have been happier with our catering team :)
melisa johnson (NSW)