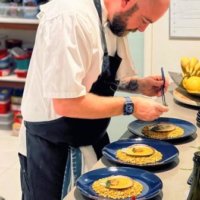 Karl Nicholson
2 reviews
5.0
Chef Karl Nicholson offers his 14 years of culinary experience to your plate.
His cooking style and ethos is based around seasonality, using the finest local produce, and aiming towards a zero waste policy. You will observe this ethos throughout some of Karl's dishes, where you will notice the use of certain parts of an ingredient that are usually discarded, to make for an exciting discovery.
Karl recently arrived in Perth, following selling his restaurants in Liverpool, UK. One of which was the award winning Olive & Grape, which bagged the award for "Best Fine Dining Restaurant, Liverpool" in 2021. He has also been recently travelling cooking for A-list celebrities, including; Ed Sheeran, The Weekend, Coldplay, Pink, Sam Smith, Robbie Williams to mention a few.
Karl thoroughly enjoys the "chef's table" style of dining, which offers a very immersive and informative evening with friends and loved ones.

Karl Nicholson
Thanks so much to the team at At Your Table! Our evening was perfect and everyone loved it! Carl and Mitch arrived in a timely manner, set up quickly and got to work, they were both friendly and we enjoyed watching Carl create his dishes. Mitch was polite, respectful and attentive. The food was glorious! It made for a perfect night for our 20th Wedding Anniversary with friends. Will definitely be booking again, it was excellent!
Melissa (WA)

Karl Nicholson
Thank you so much for arranging food & beverage service for my event this past Saturday night. From initially booking through to delivery I was most impressed…! Karl's food / menu was simply delicious & I would highly recommend to family & friends. Freddy was a delight too. I really appreciate all the efforts from all involved Thank you & I will certainly be booking again in the future
Melanie (WA)