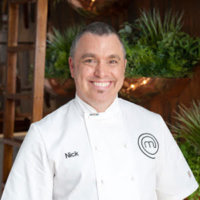 Nick Whitehouse
8 reviews
4.4
Nick was born in England and grew up surrounded by food. At the age of 11 he was on holiday in France and tried his first oyster and that was it, a career with food was born. After school he went on to finish an apprenticeship in London, and then worked as a Chef at many prestigious 1 and 2 Michelin star restaurants for the next 10 years. During his career he spent several years cooking in France, Holland and Thailand, where he expanded his horizons on food and culture.
Events that Nick ran in and around London include the wedding of the Head Chef from The Fat Duck (voted the second best restaurant in the world), Lord and Lady Cowdray's 40th wedding anniversary at Cowdray Castle, a London Fashion Week event at the Natural History Museum, and several events that royalty attended. He was also the Private Chef for the Red Hot Chili Peppers.
Nick arrived in Sydney in 2009 and has worked at Koi Restaurant in Woolwich, Wildfire in Circular Quay and Flying Fish in Pyrmont. He is now working as a consultant and freelance food stylist. Nick's culinary style uses his solid cooking techniques and understanding of local ingredients to create modern timeless dishes in line with the seasons. His menus are primarily modern European, but he's not scared to add Asian flavours or techniques to the mix if he thinks it can enhance a dish. His food-obsessive nature makes him strive for perfection at every step, from the idea of a dish, to the ingredients through to the finished meal.
Nick is one of 'At Your Table's Michelin star trained Chefs and therefore, in addition to his standard 3 course menu, he also offers super premium 3 course and 5 or 7 course tasting menus. These menus involve specialised produce and advanced cooking techniques used in Michelin star restaurants. Price upon application.
Nick recently appeared on Channel Ten's "Masterchef The Professionals".

Nick Whitehouse
Nick is really professional and he exceeded our expectations!Thanks a lot mate for making my bday such a special night. Cheers
Arbrnor Bylykbashi (NSW)

Nick Whitehouse
Nick was a fantastic choice and ideal chef for our initmate in home dining experience. He arrived 1/2 an hour early, cooked an additional two dishes for us, and stayed an hour past his bump out time. He was friendly and served fantastic food - what more could you ask for?
L (NSW)

Nick Whitehouse
Nick was wonderful. He arrived early, set up, cooked up an incredible feast for my party, (worked so hard all night) and then cleaned it all up! All the while being so friendly and entertaining. I couldn't have been happier with Nick. Our waiter Adam was also a wonderful trooper through the night. Nothing was a problem. What a nice duo.
Gina (NSW)

Nick Whitehouse
The food and experience provided by Nick was something not seen before and rated with that of dining experiences at 3 chef hat restaurants. A night that will be remembered. The only let down was the interface and process of the booking and lack of communication. Hence the score of 1 for the process of booking, nothing to do with the chef.
Anthony Johnson (NSW)

Nick Whitehouse
Nick was amazing. We booked an 8 course degustation and many of our guests agreed it was the best they had experienced. Nick was a pleasure to deal with and made short work of our kitchen which I'm quite sure was not up to his standard. We will definitely book him again.
Anna Musson (NSW)