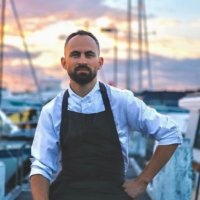 Pierre Gaudin
4 reviews
5.0
Pierre was born and raised in Paris, France. He has 20 years experience working in mainly fine dining restaurants and hotels, learning his skill in Michelin star restaurants in the south of France and Paris.
Pierre has always been keen to travel which has allowed him to discover new food and meet new people. Working overseas has enhanced his culinary curiosity and his adaptability – as well as enabling him to share his French skills.
For the past 3 years he has been a private chef with his main focus being to cook healthy and dynamic dishes. Pierre aims to pick seasonal produce and organic ingredients with local farmers and suppliers.

Pierre Gaudin
Excellent experience. Pierre ensured we felt like a guest in our own home. His food quality, presentation and personable delivery was first rate. We will use him again - which, to me, is the best endorsement I can think of.
John Tully (NSW)

Pierre Gaudin
From arrival to completion, Pierre ensured we felt special - and the quality of his food and presentation capped off a great experience. We will use him again and this is the best gauge for any recommendation.
John (NSW)

Pierre Gaudin
What a fabulous experience to have Chef Pierre cook for my friends to celebrate a special milestone. Pierre's food was incredible, on another level and he was super nice explaining every meal to my guests as it was served. In a heartbeat I would use Pierre and the private dining experience. This is first time in my life I went out to the kitchen after a dinner party and it was spotless!
Anita Catalano (NSW)

Pierre Gaudin
Chef Pierre Gaudin was great to deal with from the start to the end. I would definitely recommend At Your Table for any event and look forward to using them again in the future.
Daniel Elhindi (Select)