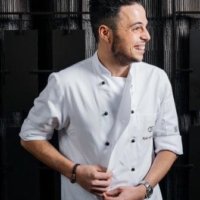 Rony Parienty
3 reviews
5.0
Rony has been fortunate enough to have worked in some of the most amazing kitchens in the world, including France, Switzerland, Italy and Spain. His experience in these countries helped him to develop a unique style, blending classic techniques with contemporary flair in his cooking.
He has also had the opportunity to work at one of Melbourne's iconic restaurants, Vue de Monde, where he gained valuable experience in high-end dining. Currently he is the Head Chef at No35 Sofitel, where he leads a team of culinary professionals to create delicious and visually appealing dishes for guests. He is passionate about using fresh and locally sourced ingredients, and his aim is to create memorable culinary experiences for his diners.

Rony Parienty
Rony was absolutely fantastic - the food was delicious and his team was professional. The team at AYT was great to deal with leading up to the event, providing me with a runsheet and always replying to questions promptly. I wouldn't hesitate to recommend AYT if you are looking to host a private event and can only say good things about Rony.
Amit Morsky (VIC)

Rony Parienty
Thank you Ellie for organising my recent Dinner party with your amazing Chef Rony and his waiter Gem Rony's dinner was beautiful from start to finish and he was very entertaining as well We had a fabulous night
Anne Outhred (VIC)

Rony Parienty
We had the best night - Chef Rony is excellent - I can highly recommend him.
Georgina (VIC)