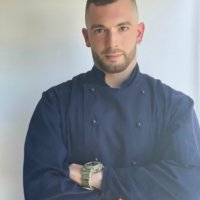 Vincenzo's love for food comes from a very traditional Italian background based on the local, fresh produce. Growing up he was lucky enough to see and be part of regular family meals where they would have spent hours and hours preparing the food. When, these days, he cooks any of the dishes they prepared at that time, he can still recall the smell of that room, he can almost see his grandmother busy with the wood-fired oven and her rushing due to the clock getting closer to lunch time. For Vincenzo, cooking is mainly reminiscing and passing down this same feeling to his guests which is his highest aim.
Attending culinary school during his teenage years he left the city of Avellino, in the south of Italy, at the age of 19 willing to discover a new country. He has been part of the hospitality industry for the past 8 years, since he moved to Australia. Throughout the kitchens he has worked in he has managed to gain experience and growth from a high-volume busy cafe, across a modern South East Asian restaurant, to Italian fine dining (Australian Good Food Guide Awarded).
Vincenzo's food reflects everything he has learnt, summarising who he is in the menus that are a real journey across Italy winking the eye to the World; always honouring the past and looking at the future.