2020 catapulted cocktail hour at home to a whole new level. While we are all looking forward to getting out a little bit more, many have grown accustomed to having a pretty sweet at-home bar set up to greet us at the end of a long day. Here are our favorite tips for stocking your home bar like a pro.
Home bar options
Cocktail bars can be as elaborate or simple as you like. The best home bar is the one that fits your space the best. Bar carts continue to be super popular and can be rustic, elegant, classic, or casual-it all depends on how you style it and the type of bar cart you use.
If you don't want to go the bar cart route, you can use any table that can be tucked into a corner of your living room, sitting room, or dining room- reality any spot where you will be serving cocktails.
Another interesting way to create a bar cart is on a shelf in your kitchen. If you already have open shelving, this is a fantastic space saving option and is also a great design element. You can also create a bar area on a bookshelf or in a part of your curio cabinet.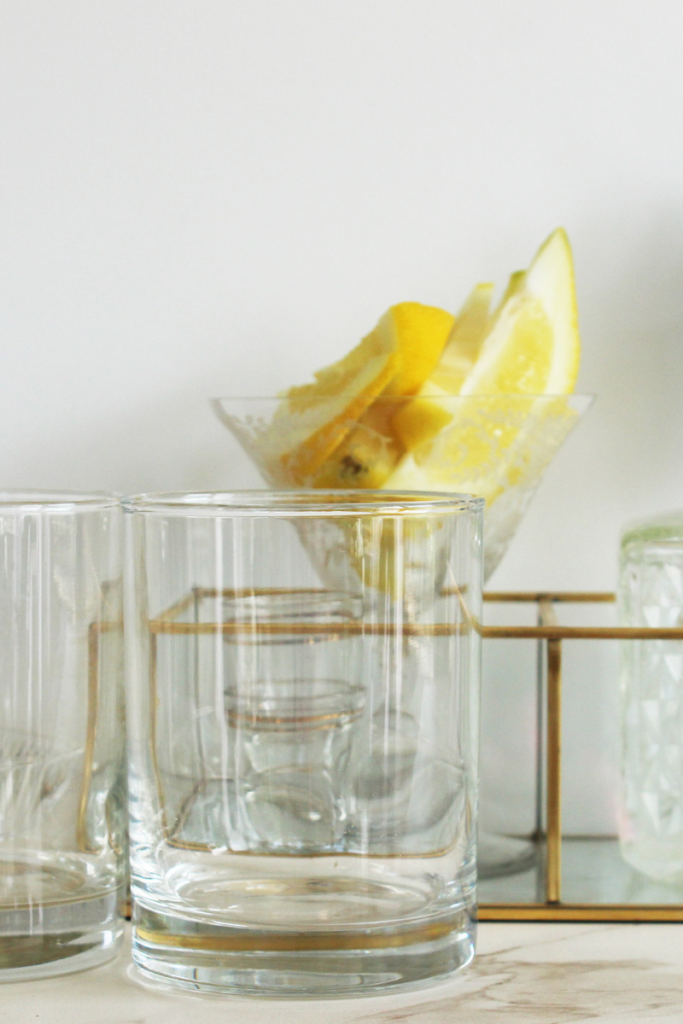 Liquors and mixers for your home bar
You can stock your home bar with what you like to drink best, but thre are also a few essentials that you will want to have on hand for the occasional (or not so occasional) dinner parties or guests you have in your home. Here are the basics you will want to stock in your home bar:
Liquors- Gin, whiskey, vodka, brandy or cognac, rum, and tequila. When choosing your liquors opt for something in the mid price range that drinks solo and mixes well in a cocktail.
Wine- Have a few reds, a few whites, and something sparkling like a prosecco or champagne in your home bar. Don't forget the corkscrew and an air sealant replaceable cork.
Mixers- Tonic water, seltzer (add in a flavored seltzer for a quick cocktail option), club soda, still and sparkling water. If you want to keep juices stocked consider individual cans or bottles of cranberry, pineapple, tomato, and orange juice.
Garnishes- Lemons, limes, olives, onions, pickles, simple syrups, and herbs can all be stocked as garnishes. With the exception of the jarred items, you will need to buy these closer to the time you are going to use them and then bring them to your bar and cut them up when you are going to mix drinks.
Glasses you need for your bar cart
Keep the type of glasses you have at your home bar to a minimum if you have a smaller space. You can branch out more if you have a bar with more storage. When choosing your glasses consider what kinds of cocktails you will be making.
The basics you'll always want to have are wine glasses- larger for red, smaller for white, and a flute for sparkling if you have space. If you are limited on space chose a medium-size wine glass to use for both red and white and add in flutes. Rocks glasses are a must for serving mixed drinks and on-the-rocks orders. And you'll want to have martini glasses. If space allows, go ahead and add in a highball glass for mixed cocktails or sparkling waters and tonics. A decanter and a pitcher are also great to have on hand for your home bar.
When you are choosing your glasses you can go streamlined and choose pieces that are all the same style. Or, you can go eclectic and mix up your glassware. Both look great when displayed -Have fun with your glassware.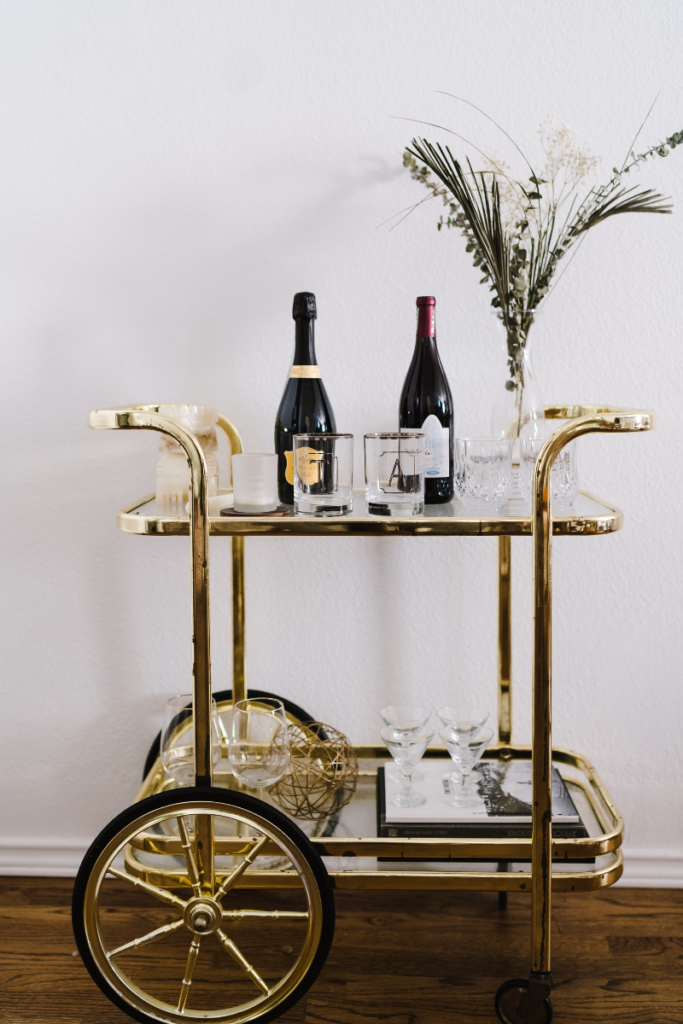 How to style your cocktail bar
Sometimes it's the little things that make the biggest impact. When you are styling your cocktail bar remember to take from the room you are in and add a few special touches, and always try to throw in something unexpected or whimsical- these little additions make for great conversation starters while your guests pour a glass of wine or mix a cocktail.
Here are a few ideas for styling your bar home bar:
Add flowers in a bar glass of your choosing
Pull in a green plant or succulent. Herbs are also a nice addition and can also serve as ingredients in your cocktails
Use beautiful or interesting vessels to hold your cut fruit and garnishes
Photographs or artwork- either framed and sitting on your bar, leaned against the wall on the top shelf, or hung on the wall behind your bar- make a stylish impact and are great conversation starters
If space allows, fun cocktail books add another layer to your home bar
Choose a bar towel and cocktail napkins that stand out or complement the room where you have your bar set up.
Eclectic stirrers and straws are another way to introduce texture and color to your bar area
Cheers to cocktail hour at your home bar
Now that your home bar is stocked and styled it's up to you to decide what to do next. Cozy up with a good book or a movie and relax with a glass of wine. Or pour a smart cocktail at the end of the day for just the two of you. Feeling social? Invite over a few of your closest friends for one of our in-home wine-tastings, chef table experiences, or private chef dinners.