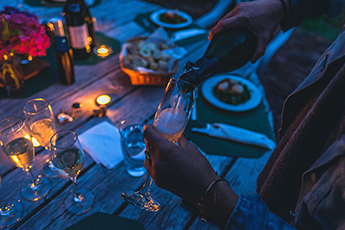 Cooking at home for guests can be daunting, especially when you have guests coming over tomorrow night and you're still googling '10 Do's and Don'ts for your next dinner party
Well, first off DON'T Panic.
Throwing dinner parties is what we do and so we have compiled a handy little list of 10 Do's and Don'ts for your next dinner party.
Here is a list of Do's and Don'ts for your next Dinner party
1. DON'T attempt an unpractised recipe
It might seem like a good idea to try a new recipe for your guests, but there are few things sadder than realizing you didn't know exactly what you were doing and you're feeling flat as it didn't turn out quite right. What's far more impressive is if you cook something you have already done before, then execute it perfectly with flawless presentation!
2. DO some preparation
A dinner party can be hectic few hours if you are not well prepared. Your guests will enjoy your company far more if you are relaxed, holding a glass of wine and confident that your prep is done and you simply have to add a few finishing touches.
3. DON'T apologize for the food!
The potatoes are a little browner than you'd like? So, what? Own it. Be confident in what you have cooked, even it's not quite 100% perfect you have cooked a beautiful meal for your guests. They are also most likely there for your company and not simply your cooking.
However, if your potatoes' come up dry as a bone you can always hire one of our chefs to come and cook your dinner party for you 😉
4. DO start cooking a little earlier than you think you should!
Your guests will no doubt be happy to wait for dinner… but there is nothing worse than not being ready and everyone has finished the wine before you get the first course on the table.
5. DO make a playlist
Great food, Delicious wine, Good company. It's all very important for any dinner party, but don't overlook the atmosphere. A really easy way to ensure a great atmosphere for the evening is get a playlist sorted beforehand. It's then one less thing you have to worry about. Just concentrate on the cooking and ensuring you get your fair share of the wine!
6. DON'T rely too heavily on your guests
So, you're having a bit of a pot-luck dinner. Sure, you asked them to bring something, but people have been known to forget things or turn up late. If it's an essential item, you don't want to be left in the lurch. Nothing worse than people going hungry at a party. You're the host so make sure you have enough food, and if they bring a delicious salad as well then happy days.
7. DO ensure you take time to sit down
Plan the menu and the serving of it so you're able to enjoy the meal too. No one wants to be at a dinner party where the host spends most of the evening urging people to eat while he or she stirs something on the stove. If they wanted to be purely served on they would go to a restaurant or even hire a private chef. They will be happily fed, but they would probably love to catch up as well.
8. DON'T let the guests do dishes!
Let your guests relax, clean the dishes later when they have gone home or even the next day. The idea of the dinner party is to chat, catch up and enjoy each other's company.
You then just have to hope when it's their turn to host a party they return the favour 😉
9. DO serve dessert
Everybody loves dessert. And if they say they don't, they are lying… or strange. This accounts for cheese platter's also.
Dessert and or cheese is simple way to impress. The work is usually done hours before hand and it's a great way to leave fond memories of your cooking.
If you have any Do's and Don'ts for your next dinner party, we would love to hear about them. Particularly if they are funny and give us a little laugh.