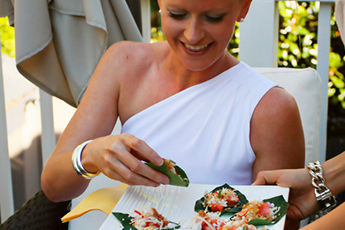 Our usual mantra of plan well and plan ahead are the crux of the matter when trying to keep to a budget. Start early so that you have plenty of thinking time to get the best you can from your dollars. For more on planning read our dinner party planning post.
Set your budget and stick to it! First take the overall amount you are willing to spend and write it down, this must be set in stone with no compromise. It is all too easy to add a little bit of this and a little bit of that, but it won't seem so little when the final bill has to be settled. It is a good idea then to divide the amount up into categories of décor and styling, food and drink in order to begin the master plan.
Decide on the number of guests, taking into account the budget and see how much that would work out at per head. You will have to be realistic here as obviously setting the budget at $100 will mean you cannot then invite 100 guests, so how many is viable looking at your figures? For more on how to decide who to invite read our post all about it.
Themed parties can be an economical way to go, without it looking stingy and a bit disappointing. Think about Italian food for example where simple pasta dishes are so delicious, Indian cuisine where vegetables and pulses can be the stars of the show or a seasonal theme such as winter recipes of soups and slow cooked casseroles or a summer one with heaps of brightly coloured salads.
Guests will be so impressed to receive a hand written invitation, use interesting paper, simple decoration such as ribbons, beads or coloured ink and of course your very best handwriting! If you are simply the worst writer, then use an interesting font and print them from your home computer, you can still personalise it in the same way as a handwritten one.
Create an elegant style by lighting lots and lots of candles around the rooms you will be using. Tea lights are very pretty if you have plenty of them, votives similarly but create more of a statement, just put them in bowls, glasses or even foil, then cover it with small pebbles or sand from the beach. The possibilities are endless once you get your mind working in the right way.
Set the table as economically as you can, it is not necessary to buy lots of expensive flowers for a fancy table centrepiece, how about greenery from your garden, single stems on a row of bottles or in a shot glass by every place? Even more economical, scatter flower petals, leaves or beads, a little goes a long way, so don't overdo it and make your table look like the honeymoon suite! Form more of how to set the table in style read our post.
Paper napkins have come on no end in recent years and can be bought in numerous colours, patterns and styles, but remember to keep the presentation simple, no fancy folding into alarming sculptures, a plain rectangle always looks sophisticated.
A large table cloth will also be very expensive so why not try a central runner instead? Or if your table surface is not so great, buy a single bed sheet which will be so much cheaper and the choice much wider? Best to keep it to a plain colour though, and not a novelty design, unless of course your theme is super heroes or soccer!
If you don't have fine china, glass and cutlery, don't worry. No need to buy or hire it, you could borrow or try to use an eclectic mix and make it quirky. Remember to really mix it so that every place or every other place is different, don't have mostly the same with a couple of odd ones here and there or it looks as if you didn't have enough to go round.
No fancy Hifi or PC for making a play list of background music? You can always use the radio or the radio channels on your TV, it will only take a short time to find one that is suitable, but remember to do it well ahead, not as your guests arrive. Nobody will want the irritation of channel hopping with alternate blasts of hip hop or chamber music in your attempt to find smooth dinner jazz. For more on music read our 5 tips for creating a dinner party playlist.
Finding the right food at the right price can be surprisingly easy but it will take a little more time and thought than just plucking a fancy recipe from the latest cookery book. There are hundreds of recipe ideas on the internet so it is relatively easy to put together an interesting and delicious menu for a modest outlay. Only using what is in season is absolutely vital, and it is good to find local suppliers at markets to keep the cost down.
Canapés can run away with a lot of cash and will be over before the main event of sitting down to dinner. So keep them very simple with such things as crudités or bread sticks with home made dips. Buy bags of hand cooked chips and put them into huge ceramic bowls or baskets, they will look impressive and don't cost much. No need for caviar, quails' eggs, or foie gras.
The entrée can be cleverly adapted to make fine ingredients go much further, for example smoked salmon is expensive but not if combined with crème fraiche, black pepper and lemon juice to make a light mousse that can be served with lots of watercress and melba toast. Soups are very popular and there are lots of recipes for something unusual such as apple and parsnip in winter or red peppers and tomatoes in summer. Pasta and pastry dishes can be a clever way of using vegetables as a starter, for example goat's cheese and red onion tart or spaghetti puttanesca. Huge salad platters with tomatoes and mozzarella or big bowls of melon scattered with a little shredded prosciutto or salami. Lots and lots of fabulous things to choose from here.
For the main course the possibilities are endless, cheaper cuts can be used to great advantage and such things a pork belly and lamb shanks are very fashionable as are lots of ethnic dishes from the far or middle east. Find interesting ways of presenting the food and putting a modern twist to an old favourite, your best friend here will again be the internet and I promise you will be spoilt for choice, just start with the main ingredient that you know is in season or on special offer and away you go. Take care to look how chefs present the food as well because people eat with their eyes as well as their taste buds!
Desserts can be very spectacular and yet very simple, light clouds of meringue – quick, cheap and easy. Plain sponge cakes can be transformed with fresh fruit and cream. Mousses and trifles are excellent for stretching ingredients and can be presented to huge effect in individual dishes. The mouth waters just thinking about it.
A good way to minimise the cost of a cheese course is to set a single large block on a platter with a strategically placed bunch of grapes – no need for enough to actually go round, just for decoration. You can also use dried fruit or nuts to a similar effect, and there is no need to provide a vast choice of biscuits, simple crackers are perfect or even baguettes to tear apart comme les Francais!
Drinks can run away with lots of dollars but they don't have to! Cold beer or a ready mixed cock or mocktail are popular when guests arrive and this is a good way of using a little spirit with plenty of mixer such as gin and tonic with lemon zest shavings, mint and cucumber or an inexpensive sparkling wine with strawberries or cassis. For the dinner itself, research matching wine for your menu and get yourself off to the supermarket and find the special offers. Shop around and bargains can always be found, BUT remember to start early, don't leave it to chance that you can pick up sauvignon blanc on your way home from work only to find that cab sav is the only thing on offer.
An economical way to round off the evening is to have a single bottle of port or brandy to pass around the table, no need for a variety of liqueurs. Even better if it is related to your theme, such as Amaretto or Lemoncello for an Italian evening. Individual hand made chocolates or truffles with a good cup of coffee are hard to beat, not instant coffee under any circumstances though, just invest in a cheap cafetiere and some decent grounds. Simple!
There are hundreds of ways you can posh up simple dishes, eke out the more costly elements and provide your guests with a fantastic meal for much less than you think possible, and what is more they will never ever guess that you did it on a budget!