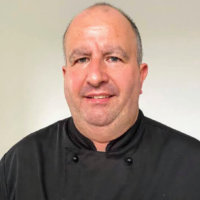 Darrin Tunstall
28 reviews
4.8
Darrin Tunstall is Queensland born and bred. He has over 34 years experience in the Chef industry. He completed his formal Chef Qualifications at 29 Murray Street – an exclusive Brisbane Wedding Venue.
Recently Darrin has worked at leading venues throughout Brisbane and interstate, including Queensland Parliament House, Brisbane Entertainment Centre, and Doomben and Eagle Farm Racecourses. He has also been a personal caterer to Celine Dion, Elton John, Andre Rieu and Pink.
Darrin was extensively involved in the Athletes Village at the 2006 Commonwealth Games, and catered for up to 10,000 people a day, so he is more than comfortable working with big numbers.
Currently Darrin operates his own catering services at some of Brisbane's top GPS schools.
Darrin is passionate about food and about delivering the highest level of service. He loves spending time searching for the freshest and most seasonal ingredients. When he finds a free moment he also loves spending time in the ocean and being out on the open road.

Darrin Tunstall
Thankyou Darrin Tunstall for cooking an amazing meal to celebrate Shane's birthday. Every dish was top class and tasted amazing. You where professional and was a pleasure to have you in the home. Would certainly recommend you to friends and family.
Aneta Latif (QLD)

Darrin Tunstall
Chef Darrin was exceptional. We could not rate him and his food highly enough. Strongly recommended.
Nadine Nicholls (QLD)

Darrin Tunstall
Overall the experience was good. We have used the service previously and I feel the previous experience was slightly better in terms of the quality of the food. Still enjoyable however.
Mark Street (QLD)

Darrin Tunstall
We as a family would like to extend our full thanks to your team. What an easy wonderful experience. From the friendly and timely pre-function emails and phone calls to the clean kitchen left behind after the event. Can we please say that Chef Darin was absolutely amazing, he was at every moment calm and professional - not to mention the delicious meals that were beautifully presented! He played a huge part in our daughters wedding day being as perfect as it was. Thank you and we would not hesitate in recommending At Your Table to anyone we can.
Tracey Prenner (QLD)

Darrin Tunstall
Darrin was an amazing chef, great quality food, the taste was amazing my guests were really impressed. Darrin was easy to work with and made us feel very comfortable.
jodie smith (QLD)