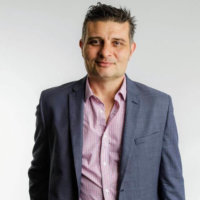 Eddie Basich
26 reviews
4.6
In the past year Eddie has been the Head Chef of The Hotel Shamrock, and achieved an honourable mention in the latest Good Food Guide for his work at The Victorian Wine Room, which was voted best country restaurant.
He has taken his style of cuisine from London to the Yarra Valley. This award-winning chef has a passion to produce significant dishes using the best and finest produce from around the regions of Victoria, so it's no wonder he is known as "The Regional Produce Chef".
Eddie's credentials include "Best Winery Restaurant in the Yarra Valley" in 2007 for his work at Tokar Estate, and a Michelin Star at Rhodes in the Square with Gary Rhodes in London.
Furthermore, he holds cooking classes and demonstrations at events such as the Royal Melbourne Show and the Bendigo Farmers Market, and is an ambassador for many regional products and produce. Eddie has appeared on Nine Network's national TV show "Fresh with Jason Roberts" in 2003 and on monthly radio programs on 3AK in Melbourne with Sandy Kay and Easy mix 98.3FM in Bendigo.
As he always says, "Life is too short so enjoy great food and wine!" We are pleased to have him as a Personal Chef.
Eddie Basich
Eddie's tapas menu for our intimate wedding was all we'd hoped and more. Delicious fresh food, great presentation and perfectly timed courses, delivered with a passionate description of each dish, that made the meal an event of its own. Great service right down to the clean kitchen at the end. Superb!
Damian White (VIC)
Eddie Basich
It was a seamless enjoyable experience and all my guests enjoyed the food
Areti ARVANITIS (VIC)
Eddie Basich
I organised a little surprise party for my husbands 40th. We were 10 adults and 4 kids. I decided for a 3 course menu and instead of dessert I was allowed to choose two different canape options, which was fabulous. Sonja was responsive and very helpful in organising everything prior to the event. Eddie and De were brilliant from the minute they came in to our home. He's got a great persona and is a fantastic cook! Everything went smooth and food was sooo delicious & the servings were to my surprise very generous serves too! My guests were all very impressed :) such a great idea to have fine dining in your home without having to cook! I recommend it to everyone. De even was so lovely and engaged with the kids a little as well.. If I have to mention something is that I would have hired another waiter just to look after the drink/bar kinda section. But it wasn't a big deal at all as I didn't have a massive guest list .. 10/10 from me! I would hire Eddie again! Thank you very much for a fantastic evening.
Veronica Merola (VIC)
Eddie Basich
We celebrated my sisters 30th and the food was immaculate. Eddie served and fed 11guests with ease and made us feel comfortable and relaxed while eating our meals. Not only was Eddie friendly, he was professional. He knew when to interact with us and when to let us enjoy our delicious meals. Each dish was tasty, fresh and well presented. His assistant Dee was also amazing at helping us create a memorable night. Overall, it was a perfect night.
Singa Addi (VIC)
Eddie Basich
A surprise 40th birthday dinner for my husband by Chef Eddie was the perfect gift and experience. He made us feel comfortable by chatting with us but also allowing us to dine privately too. Amazing food for my big foodie of a husband and cleaned up everything so we got to relax and enjoy our wine. And a special mention to our newborn baby boy who slept and let us have a fine dining experience. So so good and have recommended it to so many people already.
Sheryn Amato (VIC)