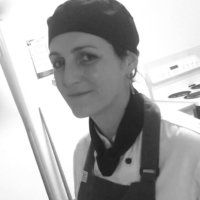 Kelly Jackson
5 reviews
5.0
Food is Kelly's life, her passion and her house of creativity; it creates happiness and brings people together. To see people enjoying what she has created gives Kelly the greatest pleasure.
She grew up with a kitchen filled with fresh pasta and homemade sauces. She can still remember the joy it brought to her family when the wonderful aromas poured out of the kitchen.
Cooking has taken Kelly around the world. From her small town of Kingston in Tasmania, she traveled around Australia, working in rural areas and cities. She landed in the Gold Coast and achieved 2 Best New Restaurant Awards. Her travels then took her to the other side of the world, traveling and working through Asia as well as North and South America. She fell in love with South America and opened up a small posada (B&B) in Margarita, Venezuela.
She then moved back to Australia and settled on the Sunshine Coast.
She loves to cook and create, and she loves what she does.

Kelly Jackson
Kelly was on time, well presented & very professional. The meals were so delicious and full of fresh ingredients and flavour. Very well presented as well. The kitchen was left immaculately clean. 5 stars!!!
Ashleigh Wright (QLD)

Kelly Jackson
lovely people, great food and seamless service
Petra Delfos (QLD)

Kelly Jackson
Kelly was great. Quick, quiet and presented the food on time and beautifully cooked. The food met everyone's expectations, including an 11 year old who had a modified meal. Our group of 13 all agreed dinner had been a great success and we would love to do it again.
Esme Mueller (QLD)

Kelly Jackson
Kelly arrived on time, made an absolutely superb meal and left the kitchen in perfect condition. Our guests were stunned by the standard of the meal and have been raving about it ever since.
Lynn Manuel (QLD)

Kelly Jackson
Chef Kelly was really wonderful; arrived on time and started the service as planned. The food she prepared looked amazing and was totally delicious. It was the perfect way to celebrate and enjoy my birthday with family and friends in the comfort and relaxed atmosphere of home dinning. Thanks Kelly!
Warren Lee (NSW)