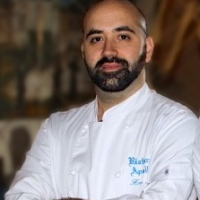 Francesco Sellitri
1 reviews
5.0
Francesco is a professional with more than 16 years of international experience in the industry with a focus on Classic and Modern Italian and International cuisines. He has well-rounded experience in five-star hotels such as Orient -Express Company shifting from 60 covers in Michelin-starred restaurants to a high-volume catering environment.
Francesco is passionate, with a good eye for detail and well-versed in managing food cost whilst working with high standards of food production and quality of products, trying to present each flavour as pristine and clean as possible. He has an excellent knowledge of marketing catering, startup consultancy and Sous Vide Cooking. A versatile individual with strong people skills to manage culinary teams and motivate staff to continually improve performance.

Francesco Sellitri
Fantastic service - a well oiled team. Everyone enjoyed the food and service immensely.
Rianda Mills (WA)