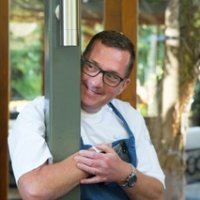 Emigrating to Sydney from Scotland in 2000, Gavin has gained experience in top end restaurants such as Jonah's Palm beach, The Bathers Pavilion, and Aqua Luna.
Now living in Byron Bay Gavin has spent 15 years, 2004 to 2018, at The Byron at Byron Resort and Spa cooking for a multitude of discerning clients such as Nicole Kidman,  Keith Urban, Wolfmother the band, and a very regular Chris  Hemsworth and parents, became ambassador of the farmers markets alongside friends and cookbook author Belinda Jeffries. He also had a weekly slot on the ABC North Coast radio contribution a seasonal recipe utilising produce from the local farmers markets for 9 years.
He loves working directly with smaller producers and exploring the region and is a seasonal farmers market dweller and lover of nature.
Committed to only the best produce and letting the natures larder dictate what he truly loves to cook and share with his clients and loved ones.
Cooking and meeting people and his love of cycling keep him inspired.