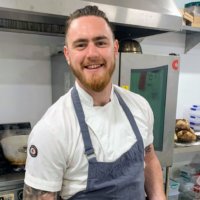 Martyn Ridings
6 reviews
5.0
A love of food started early for Martyn at 10 years old. Being exposed by chance to food cooked up by one of Australia's best chefs at the time, being the father of a school friend. The flavours and smells consumed him and he knew then he wanted to cook.
At 15, Martyn started work at Il Centro Restaurant at the heart of Brisbane's Riverside CBD. A high intensity restaurant offering fine dining fresh Italian cuisine. This is where Martyn started to learn his trade, and would soon find himself working in the south of France in a two Michelin star kitchen, mastering his craft. This was a real eye opener, working with such amazing produce and a real farm to table experience. Martyn's passion for the industry, and a dream of what it should be was formed, and since then, an importance to use local produce was a must for the chef.
Upon returning to Australia, the next port of call was Melbourne, where Stokehouse restaurant was Martyn's next destined kitchen. Stokehouse with such an established name was easy to see why, holding true to the same principles of cooking and produce chef had envisioned, Allowing Martyn to truly make big strides in maturing as a chef.
Back to Brisbane was the next move and Martyn helped open a small restaurant in East Brisbane, The Wolfe. This was his first head chef job and within a year, the restaurant received one hat in the good food guide. With monthly menu changes, the ability to pursue creativity was endless in this environment.
Finally Martyn made the move to Byron Bay, a lifestyle choice he had always dreamed of. His latest venture opening Loft Byron Bay, saw him catering to a wide variety of menu options for the large restaurant on Jonson Street, As the Executive chef.
The love of Fine dining had brought Martyn to private dining. It is the best way to showcase his craft, while you enjoy a night with family and friends together.

Martyn Ridings
We would love to pass on our gratitude to Martyn and his team for making our night so special. The exceptional quality of the food and service made for a truly memorable experience. Thanks again!
Sheona White (QLD)

Martyn Ridings
Chef Martyn went above and beyond to meet us at our remote house for my partners 30th. His food was amazing and he was able to give us insight in his dishes which added to the experience.
Yannik Wouts (QLD)

Martyn Ridings
Martyn catered an incredible gourmet seafood lunch for my husbands birthday. He also catered perfectly to our group of 7 children and left us to relax and enjoy our day.
Samantha Hardwick (VIC)

Martyn Ridings
I highly recommend At Your Table to find the perfect private chef for any occasion. The team responded to me quickly, and perfectly delivered on the brief I gave them. We had a wonderful afternoon celebrating my mums 60th birthday. Thanks to the team for all of their help!
Hannah Jones (NSW)

Martyn Ridings
Thank you ! the food was 10/10, and it was so easy for us!!
Nicola Rowlingson (NSW)