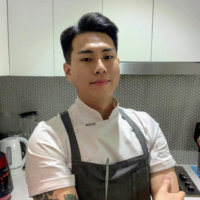 Chef Min Kim was born in Sokcho, the northern south side of Korea. In Korea he worked at Ginja, a Japanese restaurant in Sokcho, where he perfected the skills of sashimi and sushi.
Min moved to Australia in 2013 and trained in Korean and Japanese restaurants around Sydney. He then got the opportunity to work alongside Chef Griff, the Head Chef and owner of the Longrain restaurant in Sydney. He also worked with Chef Chui Lee Luk at Luxe Group and Acme, where he learned French cooking techniques and Modern Australian cuisine.
Min now manages the restaurants Symbol, Folomomo and Gratia.

Min Kim
The whole experience was excellent. Food, service, clean up all great, such a relaxing evening as a host, not having to worry about anything!
Caroline Perkins (NSW)

Min Kim
We loved it. It was for my wife's birthday party and we got to enjoy a beautiful dinner at home with close friends, with top professional services. My wife and I didn't lift a finger so we could enjoy the night with our guests. GREAT food and FANTASTIC service. Worth every penny! Thanks to Min and Cat!
Terence Diver (NSW)

Min Kim
Min was absolutely fantastic. His food was delicious and beautifully presented. The wait staff were incredibly professional and the whole evening was just perfect.
Simon Bassett (NSW)

Min Kim
We had the most outstanding evening in every way with Chef Min creating stunning and delicious canapés and a three course meal that amazed and wowed everyone at the table. The food was spectacular and the service exceptional. We had the most unforgettable evening and can't thank you enough! Everything was perfect!
Leanne Abrahams (NSW)

Min Kim
The food was brilliant, the service was amazing. Couldn't fault the experience!
Hamish Hutton (NSW)